Tony Martin describes Lochan Lacha as "50-50" to make Chepstow feature
PICTURE:
Caroline Norris
Lochan Lacha doubtful for Welsh National
TONY MARTIN on Thursday described Lochan Lacha as doubtful for Saturday's rearranged Coral Welsh National with the trainer not wanting to wait until the last minute to travel his runner.
The ten-year-old, who is as short as 14-1 for Saturday's marathon, needs seven horses to drop out above him in the weights at Friday's final declaration stage.

Martin said: "He's doubtful as he needs seven to come out [of the race]. We'll know in the morning and if we can get him over there quick we'll run, but I don't want to be messing around. I'd say he's 50-50."
Should Lochan Lacha creep into the race, Martin is confident that he can put up a bold performance.
"He's a fair horse," Martin told At The Races. "He's a proper Welsh National horse, the further the better and anything less than three miles is too short."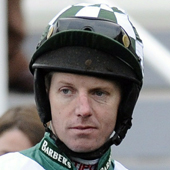 Noel Fehily: believes Watamu Bay can make an impact on Saturday
PICTURE:
Getty
One runner guaranteed a place in the Welsh National is Watamu Bay, although injury has ruled out his regular partner Noel Fehily.
However, Fehily believes the Paul Nicholls-trained eight-year-old can take the prize anyway.
He said: "He's a proper out-and-out stayer and if the ground comes up soft it will be good, as it can't be soft enough for him.
"It's always a tough staying race and I think it will play to his strengths and I thinkhe's the right type of horse for the race. He's a much better horse with a gap between his races which he has got here."
Join the betting revolution. Our new iPhone app has brilliant built-in betting - download it now or watch the video to discover what it can do for you