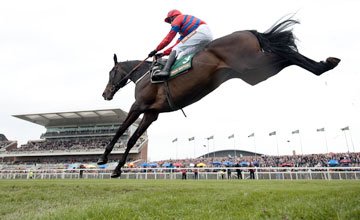 Sprinter Sacre: one of the stars who could be in action at Cheltenham
PICTURE:
Edward Whitaker (racingpost.com/photos)
Cheltenham's fate rests on overnight snowfall
THE fate of Cheltenham's massive Saturday meeting should be far clearer as dawn rises on Wednesday morning and the quantity of overnight snowfall becomes apparent.
Should snowfall come in at the lower end of the forecast 1cm-2cm then the meeting would have a reasonable chance of going ahead, especially after a thaw on Monday removed some of the snow cover already coating the racecourse's frost covers.
Clerk of the course at Cheltenham, Simon Claisse, said on Tuesday morning: "We had a little bit of a thaw yesterday and quite a bit of the snow on the covers has diminished. Another cold night [last night] though and it's currently dry but snow forecast for tonight.
"We're forecast 1cm-2cm of snow which will leave us in the balance for the weekend.
"I am no more optimistic than I was yesterday, I've been saying since Sunday that it all depends on what we get tonight.
"Two centimetres on 300 covers at 400 square metres each, 120,000 square metres, is a mass of material, whereas 1cm is half of that volume, so we have to hope we either get nothing or at the lower end of the forecast."
Should racing go ahead a legion of star names could be in action at Cheltenham, including Sprinter Sacre, Bobs Worth, Oscar Whisky, Tidal Bay and The New One.
However, if Wednesday dawns with much snow added to that already lying on the course the forecast gives little chance of it clearing in time for Saturday.
Claisse added: "The forecast does not give much hope of a thaw. Temperatures are [due to be] -2C and -3C overnight, particularly cold on Wednesday morning at -6C, and daytimes are 1.5C or 2C.
"We had a little thaw yesterday and may get a little today, but the crucial thing is how much snow we get tonight."
Wednesday's fixture at Limerick is subject to an 8am inspection, while Ayr's clerk of the course Emma Marley will check the track at 7.30am. Exeter, who also race on Wednesday, plan to inspect at 1pm today (Tuesday).