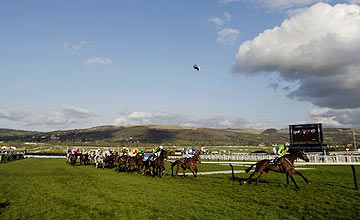 Cheltenham: unsettled weather has produced excellent jumping ground
Perfect ground means Claisse keeps taps off

CHELTENHAM clerk of the course, Simon Claisse, said on Sunday he is anticipating near-perfect jumping ground for the start of the three-day Open meeting on Friday.
"The going on the chase and hurdle courses is good to soft, good in places, and the cross-country is good to soft, soft in places," said Claisse, who is delighted that in marked contrast to recent years, he has not been compelled to turn the taps on to maintain the surface.
"The forecast for the next five or six days is to be unsettled with some rain, but no more than 7-12mm which is significantly lower what we were looking at last Friday when the suggestion was that it could be double that."
The fixture, Prestbury Park's second of the campaign, features on Sunday the inaugural running of the Racing Post Hurdle, formerly known as the Greatwood Hurdle. The same day the newspaper also sponsors what promises to be an instructive trial for next March's Arkle.
Claisse added: "I think the ground will be similar, and possibly slightly slower, to what we had last month and without watering too, which in respect of both meetings must be the first time I think for at least five or six years. This time last year we were good good to firm and still watering for the Open with a week to go."