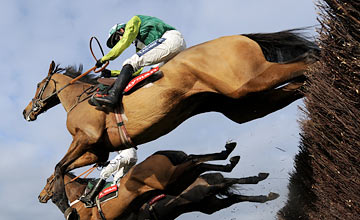 Cheltenham: prospects improve for Trials Day going ahead
Cheltenham now 4-7 to race on Saturday
RACING at Cheltenham is odds-on to take place on Saturday even though officials intend to inspect the track on Friday morning.
Clerk of the course Simon Claisse was fearing the worst when he left his house just 12miles from the track this morning surrounded by 9 inches of snow but his mood improved markedly when he arrived at the track.
Claisse said: "We had less than an inch overnight. At the moment it is still snowing lightly. If the forecast remains as it is I remain optimistic about Saturday going ahead as planned. No decision needs to be taken yet."
That news prompted Betfair punters to back racing going ahead into as short as 2-5 but the price later eased when an inspection was called.
The racecourse tweeted: "Snow is being removed from the covers, so we remain hopeful for Saturday, but still planning for Sunday as a back-up option" before announcing an inspection for 8am Friday.
Racing appears to finally be getting the better of the fight with the weather with Kempton, Lingfield and Limerick all given the go ahead to race on Wednesday. Ayr had to pass a third inspection at noon before they were given the go ahead to race.
There was not such good news from Huntingdon and Doncaster though whose meetings scheduled for Friday have been abandoned due to snow while Fontwell's track is now waterlogged after rain melted the snow. They are due to race on Sunday.