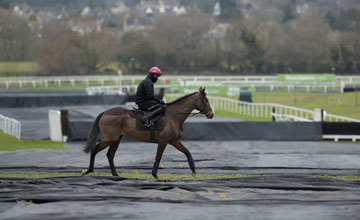 Temperatures at Cheltenham are due to be 1C at 10am
PICTURE:
Edward Whitaker (racingpost.com/photos)
Cheltenham to inspect at 10.30am due to frost
RACING at Cheltenham on day one of the festival was put in jeopardy after a wind chill of -12C overnight caused clerk of the course Simon Claisse to call a 10.30am inspection due to parts of the course being frozen.
However at 10am Claisse was optimistic. He said: "We are above freezing now, and with an hour and a half of sunshine we'd crack on. "It's +0.5 degrees now, so it's improved three-quarters of a degree in the last hour. We are moving in the right direction.
"I know where the most vulnerable areas are, and we'll check those first. There's a chance though, that we won't be able to say (give the go ahead) at this stage. With an hour and a half of sunshine though we'd crack on."
Willie Mullins is confident the meeting will go ahead and said: "I have been told ten per cent is frozen but from what I've seen I think they will race," but Ruby Walsh was less sure: "I just wouldn't know. It all depends on the sun coming through, but if that wind gets up again..."
Speaking on the Morning Line on Tuesday morning, Claisse said: "90 per cent of the course is fine, but we can't clear the track for racing until it is 100 per cent," said Claisse. "We are looking at everything we can do but it's hard to know the situation until we get the covers off.
"The problem areas tend to be on some of the take-offs and landings, on the slightly wider ground. We have fresh ground - seven to eight yards on the inside but we just have to be a bit careful of a horse going a little bit wide - it is on those areas that were worn a little bit in October, November, December which are frozen."
The covers are due to start being lifted at 10am. Explaining the decision, Claisse added: "At 10am it's due to be 1C, and it is forecast to be 3C by midday."
With parts of the cross-country course exposed it is the most vulnerable and Claisse continued: "We don't run on cross-country course until 4pm, so while it may take a bit longer to be ready I remain optimistic.
"Our experiences last night were beyond anything we had ever seen before." The going on all three courses is described as soft. WIlliam Hill make racing a 2-9 shot.