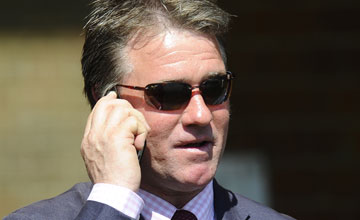 Gerard Butler: "All I can do is try to pick up the pieces."
PICTURE:
Getty Images
Butler: 'disastrous lapse' led to five-year ban

DISGRACED trainer Gerard Butler claimed in a statement issued on Thursday that an error of judgement in giving horses banned drugs had undone many years of honest endeavour.
"All I can do is try to pick up the pieces," said the 47-year-old Newmarket trainer.
"I will do so with a painfully renewed sense that the principles I neglected, in one disastrous lapse, will be those that serve me best in trying to rebuild my life."
The BHA banned Butler for giving his horses anabolic steroids, initially thought to be via the product Sungate but revealed later to be Rexogin, which contains anabolic steroid in a concentration ten times that of Sungate. It was a series of actions described by the ruling authority as "truly appalling behaviour from a licensed trainer".
Butler's statement, issued through his solicitor Richard Brooks, reads: "While this has been a devastating and humiliating experience for me, I am above all aware of its impact on others: not just my family, staff and owners but also the sport I have always loved.
"I have no intention of hiding from my responsibility for an error of judgement that has undone many years of honest endeavour.
"I wish only to offer one or two observations, then, with no intention of diluting the contrition I feel.
"My sense that I had betrayed the standards I have always sought to maintain can be judged from the fact that I myself brought a number of breaches to the attention of the BHA.
"I hope it has also become evident how widespread were the misunderstandings, among the training and veterinary communities in Newmarket, over the use of Sungate.
"With that in mind, I must emphasise that no harm resulted to any of the horses involved - and, above all, that I would never have knowingly risked any such harm. It was wrong for me to cut corners but I did so principally through naivety.
"I am grateful for the many messages I have received that recognise this, and also how distressed I am to have let myself and others down. I have made a big mistake, and am paying a big price.
"The consequences for my wife and three sons will be a daily reproach, harder to bear than any judgements passed by others."
It is understood that no decision has been take on whether Butler might appeal the BHA's ruling.
For comprehensive coverage do not miss Friday's Racing Post - or download the iPad edition from 8pm on Thursday