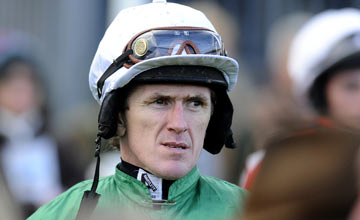 Tony McCoy: ask him for Cheltenham tips, and some spare change
PICTURE:
Getty Images
From here to Cheltenham: David Ashforth's essential plan
IF YOU you haven't already planned and prepared for Cheltenham, time is running out. It's almost too late. It probably means you're hopeless and need help. Luckily for you, help is at hand. A bit like a crash diet but without the dieting, here is my ten-step plan.
Step one Ring Cheltenham racecourse and ask to speak to Simon Claisse, director of racing and authority on the state of the ground. Arrange for him to ring you each day until the festival starts. When he has updated you, say, "Thank you, Simon, but what's it really like?" Consult the latest odds for it to be good to soft on the opening day. Back that. Buy a set of war medals (not Crimean or Boer wars).
Step two Ring Willie Mullins. Don't be fobbed off with replies such as, "he's very busy" or "he's not available at the moment" or "who did you say you are?" He's not so busy that he can't spare a couple of hours in the evening to tell you which ones to back. All he has to do is run down the ante-post lists with you and say, "No, no, yes but only for a grand, no, yes at least two grand each-way." Finishing up with, "And we'll win the bumper with ------." It can't be that difficult, can it?
Step three Ring Paul Nicholls. Tell him you've always admired his humanity. Then tell him about your daughter who has some terrible disease and will be lucky to live to see the Gold Cup. If he could just give her a couple of horses she can put £1 on with a good chance of being able to cheer them home, if she's still well enough to cheer, then he'll have made a little girl's final days happy ones. Don't forget to tell him that she really needs something at least 6-1. If he refuses, tell him he's a heartless ******* and, if he won't do it, Nicky Henderson will.
Step four Ring Nicky Henderson. See day three. If he refuses, tell him he's a heartless ******* and, if he won't do it, Jonjo O'Neill will.
Step five Practise Irish accent. Ring JP McManus. Tell him you were born in Limerick but haven't been back for many years. You would love to make one last visit to see your ancient mother but cannot afford to make the journey from Huddersfield. If he could give you 'a dark one' for Cheltenham, you can keep a secret, and be able to make that last journey. Prepare what to say when JP says, "No, but I'll send you a couple of tickets for my charity pro-am invitational golf tournament. You might like to make a donation yourself."
Step six Put on war medals, pack crutches, prepare story, drive to Fontwell. Hang around weighing room. Look forlorn. Approach Tony McCoy/Richard Johnson/Jason Maguire/Noel Fehily et al. Tell them about your medals, and your war wound. Wheedle Cheltenham selections out of them. Ask if they've got any spare change.
Step seven Catch plane to Dublin. Make way to the Cafe En Seine. Order pint of Guinness. Wait for 7pm. Say "hi" to jockey Barry Geraghty, trainer Gordon Elliott, journalist Donn McClean and other Cheltenham preview panellists. Work out who knows what they're talking about (ignore anyone who says "he's done nothing wrong", on principle). Afterwards, get a panellist on his own and ask, "What's the one you purposely didn't mention?"
Step eight Check bank account. Check it again, just to make sure there wasn't a misprint. Make list of people who might lend you money, just until the weekend. Ask him if he will. Think what you could sell. Lie on floor to see if you really need the bed.
Step nine Go to church. Pray. Go for a brisk walk. It is important to be in peak condition. Where the body walks the mind will follow. At the same time, it is important not to overdo it. Sit down. Watch episode of Outnumbered. It might be the last time you'll laugh for a while.
Step ten Get up early. Today is crucial. Study the cards at Plumpton, Stratford and Taunton. Work out how you are going to win at least £500 for tomorrow. Examine the bookmakers' special offers - they're falling over each other to get your business. Decide what you are going to wear. Prepare to wrap up warm in case you need to save money on heating by the end of the week. Plan television lunch. Go to bed early, while you've still got one. No thanks to you, you're now ready for four days that could change your life. Be bold, be fearless, be right!