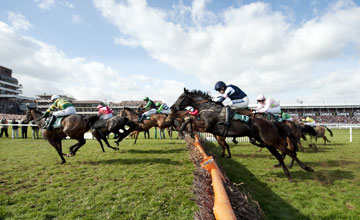 Cheltenham: no changes planned to Tuesday to Friday festival format
PICTURE:
Edward Whitaker (racingpost.com/photos)
Cheltenham's new boss rules out Saturday Cup

THE new supremo at Cheltenham racecourse on Wednesday ruled out for the time being any change to the four day, Tuesday to Friday festival format, dismissing a Saturday Gold Cup as "not on my agenda at the moment".
Ian Renton said he was still in "learning mode" as he paid tribute to the unstinting work of outgoing managing director Edward Gillespie rather than outline his ambitions for National Hunt racing's headquarters under his leadership.
Renton, who is to succeed Gillespie but in the new role of regional director for Cheltenham and the South West for Jockey Club Racecourses, will not assume sole control until his predecessor stands down after next month's Open meeting.
The former Arena Leisure managing director inherits a track that drew a record festival attendance of 230,000 in March but whose popularity has led to the introduction of a capacity reduction for Gold Cup day from next year at least until the completion of a redevelopment project that remains a minimum of four years away.
Ian Renton: new Cheltenham boss
PICTURE:
Martin Lynch
Renton said: "Edward Gillespie took over the running of Cheltenham not long after Ruby Walsh celebrated his first birthday. He has worked tirelessly and enthusiastically and with great passion to make Cheltenham the success it is today.
"It's fantastic news that Jockey Club Racecourses has confirmed that the next major development will be here at Cheltenham. We look forward to submitting the project for planning some time next year.
"Today is my fourth day at Cheltenham so I am not going to come here with a long list of changes to move on. However even if there is so much that we all know is so right at Cheltenham we are well aware that we cannot stand still and that there are many areas that are open to improvement. With the development now firmly on the horizon that will be a huge step forward."
Gillespie said even after he steps down he would continue in "a backroom role" to help ensure the redevelopment "runs smoothly locally". Plans to add a football stadium on the site have been shelved.
"This redevelopment will be the single largest development by some distance, which replaces all the buildings built prior to 1970," he said. "It is nearly a two year development. It would start after one festival and not before the 2014 festival at the earliest."
Prize-money for the Showcase meeting has been raised by £70,000 to £275,000. Purses at November's Open meeting will also be up £70,000 as part of a 14 per cent overall increase for its October to December programme. In the whole season Cheltenham will contribute £3.4m towards a total pool of £5.5m for which average race prize-money will be £51,000.
Clerk of the course and director of racing Simon Claisse said the track was seeking to employ an agent to encourage runners back from France but was hoping to entice New Zealand jumper Morpheus, trained by Graeme Rogerson, to compete at next year's festival.
» Nicky Henderson, Tony McCoy, Ruby Walsh and Istabraq are to be inducted into the Cheltenham hall of fame.