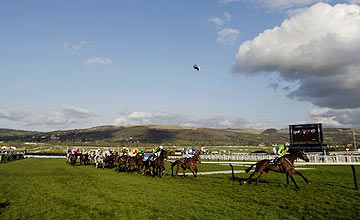 Cheltenham: officials to inspect at 8am as temperatures set to fall
Cheltenham to inspect at 8am as -5C forecast
CHELTENHAM will inspect at 8am on Wednesday but the covers went back on as soon as racing finished on Tuesday and clerk of the course Simon Claisse is "optimistic".
Claisse, who was caught out by the severity of Monday night's frost, when the wind chill temperatuure dropped to -12C, said: "We started covering both the hurdle and chase courses as soon as racing was over. As the temperature is forecast to go down to -5 tonight we will have a precautionary inspection at 8 am, when we will lift the covers in selected areas.
"Temperatures are then set to rise to 4 or 5 degrees by midday, which is a couple of degrees warmer than on day one. I'm optimistic."
Looking ahead, Claisse said: "The cross-country course is due to be inspected at 8am on Thursday, but we can bring that forward if it comes right earlier.
"We are due only a slight frost of around -2 on Wednesday night, and temperatures should get up to around 6 or 7 on Thursday. There is no frost forecast that night, but we are due around 3mm of rain approaching the start of racing on Friday."