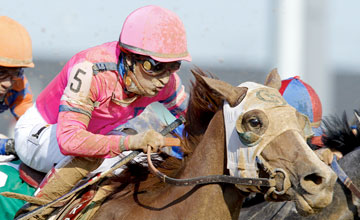 Blind Luck: won the La Troienne Stakes at Churchill Downs in 2011
PICTURE:
EquiSport Photos Alex Evers
La Troienne upgraded
to Grade 1 for 2014
USA: Kentucky Derby weekend will be graced by an extra Grade 1 event next year after the La Troienne Stakes for fillies and mares was elevated to the top level.
In recent years, the $400,000 race has hosted a succession of top-class fields featuring the likes of Rachel Alexandra, who was beaten, Blind Luck, Unrivaled Belle, Authenticity and Ginger Punch.
In contrast, both the Prioress Stakes for three-year-old fillies at Saratoga and the Princess Rooney Stakes for older fillies and mares at Calder have been downgraded to Grade 2.