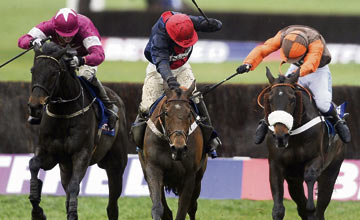 Bobs Worth wins the Gold Cup from Sir Des Champs (L) and Long Run (R)
PICTURE:
Getty Images
Follow Nicky and
Bobs your uncle
Alastair Down witnesses a chaser with substance power to victory and provide his trainer with a 50th festival success
IT REMAINS a mystery where Barry Geraghty goes off and hides on Bobs Worth mid-race, but you can set your watch by the fact this stealth bomber of a chaser will turn up at the muck and bullets end to blow away his rivals, and he did exactly that to grab a gruelling Cheltenham Gold Cup on Friday.
With Long Run setting off in front to bring his grinding qualities into play, this was a no-hiding-place race from the start and Sir Des Champs was on the leader's coattails throughout with Ruby Walsh never worse than handy on Silviniaco Conti, who made light of a mistake on the first circuit and travelled well looking full of threat.
As they went to the top of the hill for the second time Bobs Worth actually nosed into third up the rail, but between six and five out he suddenly seemed to be labouring and dropped back to sixth place with the writing seemingly on the wall and Geraghty subsequently admitted he thought he was beat.
But you have to remember what a boot-tough little nugget you are dealing with here. Twice before he has been to the forcing ground of the festival and twice returned to Seven Barrows triumphant and there is no fight too savage for him.
Going to the third-last he still had seven lengths to find on Long Run and Sir Des Champs and it was here that Silviniaco Conti, still going conspicuously strongly, fell. Bobs Worth had the agility to step round him and the game was still in play.
At this stage Geraghty had a good six lengths to make up but the race was entering the pain zone and whereas most horses are broken on the wheel of this desperate old hill to Bobs Worth it almost seems to act as a spur because the climb to the summit holds no fears for him.
On the run to the second-last Sir Des Champs and Long Run were beginning to flounder and Bobs Worth had 'em now, reeling in the front two with every head-down stride. Fractionally in third two out, he threw in a terrific jump and by now the stands were erupting for the favourite as, in terms of reserves, they could see he was the last man standing and had just the final fence between him and the Gold Cup.
He landed running but somehow AP got a last big leap from Sir Des Champs who, though patently past the end of his tether, staged a rally that was nothing short of magnificent. Running on no more than instinct, he wrenched back Bobs Worth's lead to a length and a half, but 70 yards from the line he literally had no more to give and the winner just powered on and had stretched his superiority to seven lengths at the line.
I wrote on Friday that Bobs Worth "is like the faceless assassin in the crowd - you don't know he is there until he steps into the limelight and delivers the coup de grace" and his manner of victory lived up to that billing exactly but it is already time to re-evaluate his stature.
Sold for £20,000 - just a "bob's worth" - he is the "nothing horse" who has turned out to be everything. Geraghty produced a beautifully telling line on Friday when he said Bobs Worth "impersonates a workmanlike horse but is much more than that." I know I couldn't do Barry's job but it's clear he could do mine!
And this is a chaser of very real substance. He is the first horse since the savage but brilliant Flyingbolt, stablemate of Arkle, to win three different races at the Cheltenham Festival and you can't keep higher company than that.
He is not purely about stamina and durability. Geraghty said that in his final racecourse gallop at Kempton he showed that bit of boot the really good ones have to have as part of their repertoire.
And a word must be said about Nicky Henderson, who chose the Gold Cup as the stage on which to produce his 50th festival winner and brought Bobs Worth here in the form of his lifetime after a 104-day break since his Hennessy win.
Henderson, 28 years on from his first festival win, said 'we've been very lucky here' to which one can only reply "twaddle". Henderson's Cheltenham haul has been built by many hands - most notably those of the ageless Corky Browne, who has been alongside since day one - but it is Henderson who is the orchestrator of the achievement. Luck is an incidental, talent verging on genius with jumpers, is immutable.
Usually with the excitement of the Gold Cup and the teeming atmosphere of this incomparable meeting the thoughts of those on course tend not to stray elsewhere. But not on this day.
Throughout the afternoon titans of the sport such as JP McManus, AP McCoy and Geraghty spoke as one in their moments of triumph about John Thomas McNamara and how any feelings of happiness were alien to this hour.
The weighing room is peopled by men of flint who are bound by steel bands of comradeship. They live with appalling danger as an everyday commonplace and, of course, they can not afford to dwell on the risk. But cut them and they bleed just like the rest of us and there can have been very few occasions in my lifetime when the weighing room has felt a blow so shatteringly.
Jump racing looks after its own and rises to the occasion most brilliantly when things are at their grimmest. That McNamara will lack for nothing in terms of care and resource is simply not even a shred of consolation.
At the end of this festival week it is impossible to depart with anything else in your mind than the figure who left here in the air ambulance at the irredeemably bleak end of Thursday afternoon.
Read Racing Writer of the Year Alastair Down on all the big races - only in the Racing Post