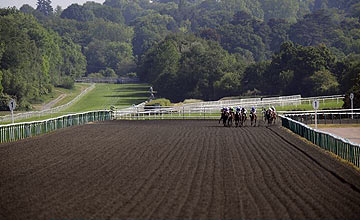 Lingfield: scene of the races in 2010 which were under investigation
PICTURE:
Getty Images
Trainer Prodromou warned off for eight years
TRAINER George Prodromou was on Thursday disqualified for eight years after a BHA corruption inquiry into the running and riding of two horses in his care.
A disciplinary panel found that he had ensured Timeteam and Trip Switch had not run on their merits at Lingfield in January 2010 and that Prodromou had conspired with others who laid the horses to lose on betting exchanges.
Prodromou, who has been training since 1993, was found guilty of three offences after an inquiry into the running andriding of two horses he owned and trained and the betting activity in the lead up to the races they ran in.
He was found to have instructed rider Charlotte Kerton to ensure Timeteam and Trip Switch did not run on their merits, tipped off four other individuals who laid the horses to lose on betting exchanges, while also admitting having himself previously laid to lose another horse in his care, offences for which he received bans of eight years, three years and 18 months respectively which will run concurrently.
The panel said Prodromou was guilty of "one of the worst types of abuse of a trainer preying upon the insecurities of a moderate jockey" in directing Kerton, who was reliant on him for rides, to breach the rules.
In its verdict it said: "The Panel is mindful that this is a harsh penalty as compared with the punters who formed part of the conspiracy but these events could never occur but for a trainer who breaches the Rules of Racing and moreover, as in this case, the Rule which goes to the heart of horseracing; namely that when a horse races a trainer ensures that it does so on its true merits."
The trainer, who represented himself atthe hearing, told racingpost.com he would appeal the sentence.
"The whole thing is ridiculous and I will definitely be appealing," he said. "It is unbelievable to me and I am so angry.
"It took the panel only half-an-hour to find me guilty, and three weeks to decide the penalty. All my owners are behind me and I am prepared to take this to the High Court, and the European Court if I have to."