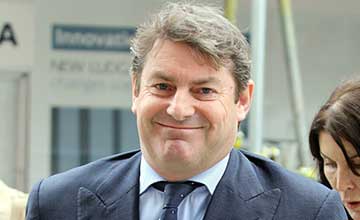 Charlie Brooks: accused of perverting the course of justice
PICTURE:
Central News
Brooks admits "stupidly" hiding belongings
TRAINER Charlie Brooks hid his pornography from police to avoid a Jacqui Smith-style public humiliation, the Old Bailey phone hacking trial heard on Monday.
The 51-year-old admitted acting "incredibly stupidly" in hiding a bag full of DVDs and an old laptop behind bins when he knew detectives were coming to search his flat.
Brooks said he feared a "Jacqui Smith moment", referring to the public embarrassment suffered by the former Home Secretary when her husband bought adult films on Parliamentary expenses.
Brooks admitted stashing the pornography in a jiffy bag in the underground car park at their Chelsea Harbour flat before police arrived, in July 2011.
"When I got back to the flat, I envisaged 20 police men coming and emptying every drawer and looking under every nook and cranny", he said.
"I did think about my DVDs and I had what I still describe as my Jacqui Smith moment."
Brooks said he took seven lesbian pornography DVDs from a bottom drawer of a filing cabinet in his office and stuffed them into a jiffy bag.
With titles such as Where The Boys Aren't 17 and Bride Of Sin, Brooks said he believed it was exactly the sort of material that would be leaked to the press by police.
"Ever since Operation Weeting had been in the building at News International, a lot of stuff had been leaked, particularly to the Guardian", he said.
Brooks said the laptop was an old, broken Sony Vaio, which contained some "smut" from his bachelor days and ideas for new novels he was planning.
He said he decided to stash that as well to keep it from police and protect it from being further damaged or corrupted.
Brooks is accused of hiding material from police on July 17, 2011, when his wife Rebekah was arrested on suspicion of phone hacking. It is alleged he concealed material which could be incriminating, intending to pervert the course of justice.
Rebekah Brooks, 45, allegedly masterminded a cover-up of phone hacking with husband, News International head of security Mark Hanna, 50, and PA Cheryl Carter, 49, when she knew she was about to be arrested.

Brooks, former News Of The World editor Andy Coulson, 46, and the paper's former managing editor Stuart Kuttner, 74, are accused of a six-year phone hacking campaign at the News of the World.

Brooks, Coulson and Goodman, 56, are also accused of corrupting public officials.

Rebekah Brooks, of Jubilee Barn, Churchill, Chipping Norton, Coulson, of Hart Hill, Charing, Kent, and Kuttner, of Broomhill Walk, Woodford Green, Essex all deny of one count of conspiracy to intercept communications. Brooks also denies two counts of perverting the course of justice and conspiracy to commit misconduct in a public office.

Coulson, with Goodman, of Woodham Lane, Woodham, Addlestone, Surrey, also denies two counts of misconduct in a public office.

Carter, of Mildmay Road, Chelmsford, Essex, Hanna, of Glynswood Road, Buckingham, Bucks, and Charles Brooks, of Jubilee Barn, Churchill, Chipping Norton all deny conspiracy to pervert the course of justice.
The trial continues.