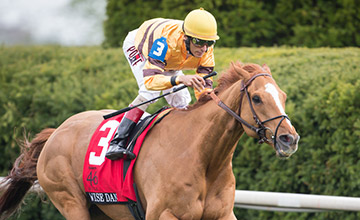 Reigning US Horse of the Year Wise Dan winning the Maker's 46 Mile
PICTURE:
Wendy Wooley
Wise Dan colic not career ending says LoPresti
WISE DAN, America's horse of the year for the past two seasons, came through emergency colic surgery in Lexington on Friday after becoming distressed following a routine gallop at his Keeneland base.
The winner of more than $6.8 million was expected to face six to eight weeks on the sidelines after surgery ended, with his trainer Charlie LoPresti saying: "I don't think it's career-ending."
LoPresti had earlier reported that the dual Breeders' Cup Mile winner had begun to show signs of distress after his morning workout and was transported to the Rood & Riddle equine hospital.
"He had a routine gallop, trained great this morning, and about an hour after training he started acting like he was uncomfortable in the stall," LoPresti said, speaking to the Blood-Horse. "We medicated him and he didn't respond.
"We got him out on the lunge rein and tried to jog him around and he didn't work out of it. Once we got him over to Rood & Riddle, they ultrasounded him and the vet saw a piece of small intestine he didn't like."
Owned and bred by Chicago-based octogenarian Morton Fink, Wise Dan has earned legendary status thanks to a near-unblemished record over the last couple of years, during which he has won six Eclipse Awards.
The popular seven-year-old gelding has won ten Grade 1 events, including last time out in the Woodford Reserve Turf Classic at Churchill Downs on Kentucky Derby day on his second outing of 2014.
Wise Dan has won 21 of his 29 career starts including 12 of his last 13 and going unbeaten on turf since October 2011.