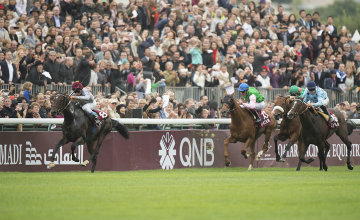 Treve (left): would become the first horse to win the Arc three times
PICTURE:
Edward Whitaker (racingpost.com/photos)
History beckons for
the queen of Longchamp
TREVE'S final workout for the Qatar Prix de l'Arc de Triomphe on the Les Aigles training grounds in Chantilly last Tuesday provided a fascinating insight into just why she has been so dominant in the last two Arcs.
RELATED LINKS
Big-race jockey Thierry Jarnet revealed: "When she gets to the end of the turn here she reacts the same way as in the false straight at Longchamp. She picks up the bit and is asking to be let loose.
"If you watch her every time she has won at Longchamp she has always been full of running coming down the descent into the false straight and then, after a slight dab on the brakes, she is ready to go in the straight. I always try to wait a little once we are in the straight because if you go too soon it is difficult to make a horse sprint for more than 400 metres.
"Sometimes I don't have the choice though. When she gets rolling into the false straight it's sometimes necessary to get her in behind her pacemaker to slow her slightly before sprinting. You're trying not to impede her momentum while conserving some energy."
Treve has won from a wide draw and around the rail in the last two years, both times overcoming big fields to win in convincing style.
One day matters most
Trainer Criquette Head-Maarek has geared a light campaign to getting her history-seeker to peak on this one day.
After easing past inferior rivals in the Group 2 Prix Corrida, Treve overcame a peak-form Flintshire in the Grand Prix de Saint-Cloud on fast ground that would have favoured last year's Arc runner-up.
Such was her superiority in the Prix Vermeille three weeks ago that officials had to upgrade her winning distance from four and a half to six lengths following a technical error.
"After all her problems before the race last year, I think I have her back to being the same horse she was when she won in 2013.
"Her great strength is her acceleration, but I think that comes from her enormous heart. Not just in terms of courage but her physical capacity. Her heart and her lungs are what make her better than the others."
History awaits and all the evidence points to Treve proving a formidable obstacle to those with pretensions to her crown.
---
Dual winners of the Prix de l'Arc de Triomphe
Ksar - 1921, 1922
Motrico - 1930, 1932
Corrida - 1936, 1937
Tantieme - 1950, 1951
Ribot - 1955, 1956
Alleged - 1977, 1978
Treve - 2013, 2014