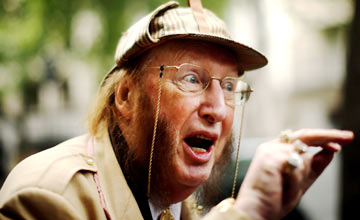 John McCririck: seeking £3 million in damages from Channel 4 and IMG
PICTURE:
Getty Images
McCririck 'disgusting'
on reality TV shows
A SENIOR manager at production company IMG was on Thursday accused of dismissing John McCririck from his job on Channel 4 Racing because the pundit did not fit the "young, glamorous, sexy" look executives were seeking for the show.
Graham Fry, managing director of Sports Production Worldwide at IMG Sports Media, insisted McCririck had been released due to concerns about his "mainstream appeal", and said he had personally
been "repulsed" and "disgusted" by McCririck's antics on reality television shows.
Fry was giving evidence on the fourth day of McCririck's employment tribunal in London. McCririck, 73, claims his dismissal in December last year was due to age discrimination and is seeking £3 million in damages from Channel 4 and IMG.
IMG secured the contract to produce racing coverage for Channel 4 after the broadcaster's acquisition of all terrestrial rights in 2012. McCririck was among several former presenters - including Alastair Down, Mike Cattermole and Derek Thompson - not retained when IMG began producing the show this year.
During cross-examination, McCririck's counsel Jennifer Eady QC put it to Fry that the reason her client had been sacked was because he did not fit the "young, glamorous, sexy look" executives hoped would attract a younger audience to the programme.
"We weren't looking for a young, glamorous, sexy look," replied Fry. "We were looking for the best presenters."
He added: "A lot of the ways we wanted to change Channel 4 Racing were not about presenters at all. There were an awful lot of things we thought could be attractive to a new audience other than presenters."
Eady also asked Fry why he had written to a colleague requesting a "sexier" picture of Francesca Cumani, daughter of Newmarket trainer Luca, who was being considered for a role in the show during the bid process.
Fry replied: "It was a flippant comment to a colleague. I was looking for a better picture."
In his witness statement to the tribunal Fry said IMG initially proposed retaining McCririck, but planned to reduce his role to that of a celebrity interviewer making a handful of appearances per year.
"We were concerned John McCririck's presenting style was over-dramatic, liable to offend and would not have mainstream appeal," he said.
"I was also concerned about John McCririck's credibility as a betting presenter in the context of a more serious, journalistic style of Channel 4 Racing, given the public persona he had created through appearances on other television programmes."
Fry, who helped prepare the pitch to Channel 4, said McCririck featured in the proposal primarily because of uncertainty at IMG regarding how keen the network was to have him involved from 2013.
Despite bosses' reservations, McCririck was part of plans for the revamped Channel 4 Racing until a week before the new line-up was revealed in October 2013.
Fry said it was Carl Hicks, executive producer of Channel 4 Racing and who gives evidence to the tribunal on Friday, who ultimately made the decisive argument against involving McCririck.
"He thought it was not right to have John McCririck on the programmes at all, given the concerns about his presentation style and audience appeal," said Fry.
Admitting he was not a "racing aficionado", Fry said in his witness statement he found McCririck's betting coverage "difficult to follow" and "delivered in a loud, brash, aggressive and long-winded style".
Fry added he felt McCririck had "lost a lot of credibility" with the general public by appearing on reality shows such as Celebrity Wife Swap and Celebrity Big Brother. He said he had been "disgusted" by the pundit's behaviour on those programmes.
"I was really, really repulsed by what I saw - he had a major tantrum [on Big Brother] about not being allowed his Diet Coke," Fry said, eliciting a guffaw from McCririck.
"With the greatest respect Mr McCririck, you can't say that was you putting on an act," Fry added.
Asked by Eady about McCririck's qualifications for his job as betting expert, Fry said: "He was amazingly well qualified, yes, but with the reservations I mentioned. He had qualifications in betting, not as a presenter."
The new-look team announced by IMG and Channel 4 last October had no place for five former presenters over the age of 50, but Fry rejected a claim decisions about presenters had been influenced by age.
"Age has never been a consideration, age was never once discussed about any of the team," said Fry.
"All we have tried to do is find the best people for the job. That's why we called it [presenting line-up] the dream team. We were looking for nothing but the best."
The hearing continues.
Don't miss David Ashforth's take on events in Friday's Racing Post - get the paper on your iPad or download the digital edition