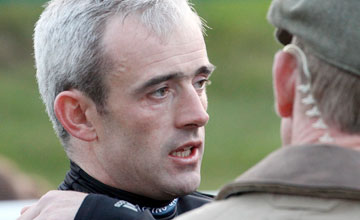 Ruby Walsh: expanded on comments made during the Cheltenham Festival
PICTURE:
John Grossick (racingpost.com/photos)
Walsh expands on views after death of Our Conor
RUBY WALSH has expanded on comments at Cheltenham on Tuesday when it was reported he claimed racehorses were replaceable in the wake of the death of top hurdler Our Conor.
RELATED LINKS
Our Conor was put down as a result of injury sustained in a fall during the Stan James Champion Hurdle in which Walsh was riding Hurricane Fly, who failed in his bid to win the race for a third time.
In comments made after the race, Ireland's champion jockey was reported to have said: "Horses are horses. You can replace a horse. It's sad, but horses are animals, outside your back door. Humans are humans. They are inside your back door.
"You can replace a horse. You can't replace a human being. That's my feeling on it."
Walsh had said earlier, after victory in the first race on Vautour, that Cheltenham was not all about winning as his thoughts turned to fellow jockey JT McNamara, seriously injured at the festival a year ago, and Britain's champion jockey Tony McCoy whose six-month old son has recently undergone cardiac surgery.
Speaking on TalkSport radio on Wednesday morning, Walsh was asked to expand on his comments, and said: "We look after horses like they're pets. There's a huge difference between your pet and your family. That's the point I was making.
"There's a big difference between you going home tonight and something's happened to your dog, and you go home tonight and something's happened to one of your kids. There's a huge difference.
"We look after horses like they are pets, and that's the feeling you get when something goes wrong. At the end of the day, it's still your pet. It ain't your son, your daughter, your brother, your sister."