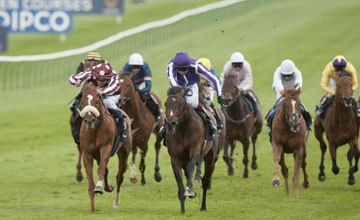 Flagship Saturday races like the 2,000 Guineas will begin at 3.50pm
PICTURE:
Edward Whitaker (racingpost.com/photos)
C4 outlines regular time for big Saturday races
CHANNEL 4 has revealed that it wants not just followers of racing but sport fans in general to begin associating 3.50pm with the time of the big Saturday horserace after revealing that the majority of its feature events will have the same slot from next year.
While crown jewel contests the John Smith's Grand National and Investec Derby will continue to have a more fluid off-time, almost all Channel 4's flagship Saturday races outside the deep winter period will begin at 3.50pm when the commercial network becomes racing's exclusive terrestrial partner from January 1.
Speaking during a media briefing in London on Wednesday, incoming executive producer Carl Hicks - who has joined Channel 4's new racing provider IMG after 22 years at the BBC - said: "Wherever we are, 3.50pm will become associated with the big race, whether it's the 2,000 Guineas or a major handicap.
"Our aim is to get sport fans and the time hasn't been picked by accident as it's during half-time at football. It will also help other media, including Five Live, who will be able to do commentaries that they otherwise would not."
Hicks - who announced that Saturday programmes will run from 1.45pm to 4.15pm - also revealed that he maintains the wish he held when BBC racing editor for both the Grand National and Derby to be run at 5pm.
Asked if Channel 4 was keen on the idea, the broadcaster's sport chief Jamie Aitchison said: "We're open to discussion. In year one we'll look at similar times to the ones we have now but I'm sure everyone in racing will then be open to considering later times."
Aitchison was speaking in the same room as Clare Balding and Nick Luck, who will lead a team that Channel 4 admitted had not been easy to form.
Aitchison added: "We decided from a very early point that there were too many faces on screen and that was confusing. We also didn't want to divide the Flat and jumps seasons any more and we wanted continuity between The Morning Line and the afternoon.
"Once Clare was in place, Nick, Mike Cattermole and Alastair Down were all vying for the same role and Nick was the person who landed it. I've got letters on my desk complaining about it and letters saying 'brilliant'."
During the briefing, Channel 4 revealed the new opening titles and graphics that will greet viewers when Balding presents coverage from Cheltenham on January 1, the first of 88 days scheduled for 2013.