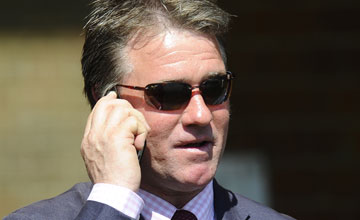 Gerard Butler: has appealed against his five-year ban
PICTURE:
Getty Images
Butler appeals five-year steroids ban
GERARD BUTLER has appealed against the BHA's decision to ban him for five years for administering banned anabolic steroids to horses in his care.
Butler was handed the ban last week, but on Wednesday evening the BHA tweeted: "Gerard Butler has appealed against the findings of the disciplinary panel on December 4, 2013, and the penalties imposed upon him."
An additional tweet stated no date for a hearing has been set and in the meantime Butler will remain banned from racing.
The panel delivered a damning verdict on Butler, calling his actions: "truly appalling behaviour from a licensed trainer".
At the inquiry, Butler, who admitted all seven charges against him, confessed to purchasing and administering Rexogin, an unlicensed product ten times the strength of Sungate which is meant for humans, to four of the nine horses who tested positive for stanozolol, another banned anabolic steroid.
The panel concluded Butler's actions amounted to "an appalling breach of his duty to look after the interests of the horses in his care and amounted to conduct that was seriously prejudicial to the integrity, proper conduct and good reputation of horseracing in Great Britain".
Following the decision, Butler released a statement in which he said: "I have made a big mistake and I'm paying a big price. All I can do is try to pick up the pieces. I will do so with a painfully renewed sense that the principles I neglected, in one disastrous lapse, will be those that serve me best in trying to rebuild my life."