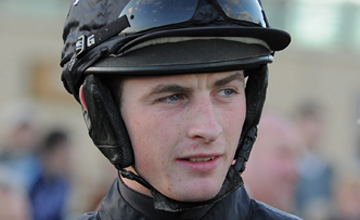 Brian Toomey: keen to remain in the racing industry
PICTURE:
Martin Lynch (racingpost.com/photos)
Upbeat Toomey set
for final surgery

BRIAN TOOMEY returned to hospital on Monday in upbeat mood for what is expected to be his final round of surgery as he continues his recovery from a life-threatening fall at Perth in July.
Before leaving home the 24-year-old, who is due to have a titanium plate inserted in the right-hand side of his head on Tuesday, said: "I know it's an operation, but I'm looking forward to it because it's another step forward."
Provided there are no post-operation infection problems, Toomey anticipates being discharged from James Cook University Hospital in Middlesbrough within three to five days.
Although he is virtually resigned to not returning to the saddle, Toomey, who continues to draw inspiration from the support he has received from racing, is determined to remain within the industry.
"I have got no skull in that side of my head at the moment and the plate will protect my brain and it will make me safe," he said. "I don't need anymore operations once it is done, and although I still need bits of occupational therapy, the Injured Jockeys Fund are on the case and they have got that sorted."
In recent weeks Toomey has been back at Kevin Ryan's Thirsk stable where he has undertaken various tasks including making the trainer's entries.
He said: "I probably won't be able to ride again, I am pretty sure they [the BHA] wouldn't allow it, but I am still young and keen and anything I do will be involved with horses because I'm not interested in anything else.
"Kevin has been very good in allowing me to help around the stable, and when I get the plate put in it will put him and Amy [Ryan, Toomey's girlfriend] and my family at ease because it will make me safer. If I tripped over at the moment I would be in a bit of bother because there is nothing there to protect the brain."
He added: "Going into hospital will be another bridge crossed. My doctor said he couldn't believe I had improved so much, but that I will improve again once I have had the operation. I want to thank everyone who has wished me well since the accident and to let them know that I am coming along really well. Hopefully I will be even better when I come out of hospital this time."