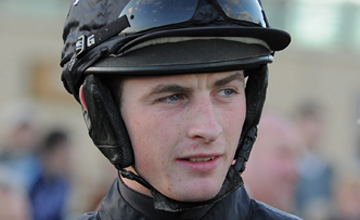 Brian Toomey: suffered a serious head injury in a fall at Perth last week
PICTURE:
Martin Lynch (racingpost.com/photos)
Toomey showing 'small signs of movement' - IJF

BRIAN TOOMEY is no longer under sedation and has been showing some small signs of movement at Ninewells Hospital in Dundee according to the latest update from the Injured Jockeys Fund.
Toomey, 24, suffered a serious head injury in a fall at Perth last Thursday and at the weekend underwent surgery to reduce swelling on the brain.
IJF chief executive Lisa Hancock said in a statement on Friday morning: "Brian remains in the Intensive Care Unit at Ninewells Hospital, Dundee. He is no longer being sedated and his condition has not deteriorated.
"He is showing some small signs of movement, although he remains on a ventilator to assist his breathing.
"His family would again like to thank everyone for their continued support and prayers and would like to let his close friends know that they are welcome to visit."
An update was also issued on Friday on event rider Laura Collett, who is best know for retraining Kauto Star in dressage following his retirement. Collett was injured in a fall at a Tweseldown Horse Trials in Hampshire earlier this week.
The post on her official website said: "Following her fall on Monday, Laura has injuries consistent with being crushed. The injury causing most concern is the damage to her lungs.
"It is for this reason that she continues to be sedated and kept incubated so the lungs can recover. This process is likely to continue over the weekend.
"We can confirm that she had no injuries to her limbs and all tests to her head and brain have been clear. When in lighter sedation she is very responsive.
"Her family continue to be overwhelmed by messages and cards of support."