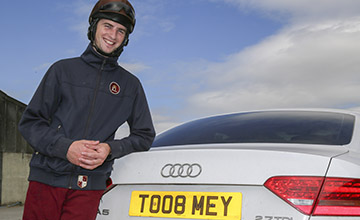 Miracle jockey Brian Toomey, 26, is all set to return to riding next Sunday
PICTURE:
Louise Pollard
'I've never worried, not even a bit, about falling'
In an exclusive interview jockey Brian Toomey speaks to Steve Dennis about his miraculous return to the saddle
This article features in RPSunday, our brilliant 16-page supplement free with the paper every Sunday or on the iPad on Saturday at 8pm
TOOMEY was dead, to begin with. There is no doubt whatever about that. Which makes it all the more rewarding to see him leading second lot out to the gallops, a gleam in his eye, a wry comment never far from his lips, as though the events of the last two years were no more substantial than a bad dream.
Brian Toomey is a jockey again, when once it looked long odds-on he'd be no more than a depressing statistic, a memorialled memory. You can tell he's a jockey from the 'J' sticker on the windscreen of his car, from the way he crouches low over his mount's neck as they work, from the way he talks about the ride at Southwell next Sunday that will set the seal on his near-miraculous comeback. They talk about Lazarus, but don't forget that Lazarus had everything done for him.
Toomey has had plenty of help too – he would not be where he is now without the assistance of very many people, for which he is repeatedly appreciative – but his own resolve and determination have played a large part in his recovery. To comprehend the present, which has been said to defy comprehension, we have to return to the past, wind the clock back two years.
When Toomey hit the ground after taking an ordinary-looking fall from Solway Dandy in a handicap hurdle at Perth on July 4, 2013, he died. The medical personnel who attended him at the scene later said he'd been dead for six seconds, and the next few weeks were an urgency of making sure that his resurrection was permanent.
Unsurprisingly, Toomey, 26, remembers nothing of the fall or its aftermath, nor, indeed, much at all about the following year, but he remembers what people have told him.
"My parents had said their goodbyes to me. They'd agreed to let my organs be donated, had organised my funeral," he says, the voice from beyond the grave. "I'm trying to forget how hard it must have been for them because I've overcome it now, and I wouldn't ever want to be in their position."
An uncertain future
He walked the tightrope between life and death for several weeks, had a section of his skull removed to release the pressure on his swollen brain, coped with an ancillary heart problem, eventually emerged from an induced coma to face an uncertain future.
Well, everyone else thought Toomey faced an uncertain future. The man himself had plans. In an interview with this newspaper three months after his fall, shortly before a titanium plate was fitted to his skull to hold it together, Toomey said: "I want to be a jockey again. I'm not interested in anything else. I'll get there."
And he has. Therein lies the difference in perception between the stages of Toomey's recovery. For his family, for his friends, for the medical staff, for the concerned onlookers, the main thing was to have this young man alive and as well as he could be, and let the future look after itself. For Toomey, everything else was subordinate to his dreams of one day being a jockey again, almost to the extent that he might have held his recovery cheaply had he been thwarted in his intentions.
"If you've a passion for something, if it's all you've ever done, if it's the only thing you can do," he says, as though it were self-evident, and the thought occurs that he's surely selling himself short, but that in his single-mindedness he doesn't want to hear that.
"Now that my future has been sorted out, everything feels a lot better. I've been worried about the future rather than the present, what I'm going to do rather than how I'm doing.
"I got very down, very depressed. I had a bit of a split personality, it affected my personality big-time, there's no doubt I've said the wrong thing to certain people over the months, lost a few friends I'm sure, but unless you've been in this position you can't know how it affects you.
"I've always had the determination, but it did affect my positive thinking when people said I was crazy, that I had no chance of coming back, I was wasting my time."
The negative never gets a look in
He refers to his determination on several occasions, always illustrating how it's driven him on towards his goal. Reader's Digest used to print articles about the power of positive thinking; Toomey has rebuilt his life on the back of it, no Mr In-Between he, the positive is relentlessly accentuated and the negative never gets a look in. Perhaps you'd worry about self-delusion, but Toomey has found it easier to fool others rather than trick himself.
"I had to train myself to let on that I was better than I was. I had to act, remember what I was going to say, how I was going to say it – I was so good that if I didn't make it as a jockey I reckoned I could get a job in Hollywood.
"In the early days people used to tell me I'd made a miraculous recovery – I certainly wasn't recovered then, but I'm recovered now.
"Even my friends and family didn't know how bad it was, I didn't want to let on how much it had affected me. I've had sleepless nights, my balance was bad, and for a long time my memory was very bad. I was worried it would never get any better, that I'd never come out of it.
"When I began thinking that way my determination took over, I tried even harder, wouldn't give in to the prospect of not making a full recovery. I wanted my recovery to be as good as I could possibly make it – but it took a long time to get it that way.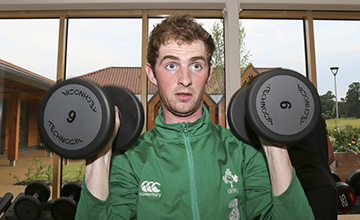 A determined Brian Toomey hones his fitness at Jack Berry House in Malton
PICTURE:
Louise Pollard
"I know there'll be a degree of negativity from some about this comeback, and I don't want to give people any excuse to say I shouldn't be doing it, so I've worked very hard, I want to be as fit, as strong and as good as I can be. Racewood have been very kind to me, they gave me an Equicizer to help with my fitness – I've ridden more winners on that than I have on the track."
So, then, to the horse he hopes will help to redress that imbalance. Toomey leads Kings Grey from his box out into the heat of a Middleham morning, stands on the mounting block, mounts. He's been riding out for trainer Phil Kirby for the last four months, gradually inching his way back to where he was before. In the saddle he looks just like any other jockey – a little tall and willowy yes, but the usual shape, the usual rhythm, the usual confidence. To look at him now is to overlook the last two years.
"I wouldn't say he's a better rider than he was four months ago, but his confidence is much higher," says Kirby, watching intently as Toomey brings Kings Grey capably up the side of the High Moor.
"When he first started schooling I think I was more nervous than he was, but he just took it all in his stride. His general appearance has certainly improved, there's far more polish about it now, he's much more stylish."
The return to riding out
& lt;p>Few could argue that Toomey doesn't look the part on a galloping horse. As he pulls Kings Grey up and walks back, the 11-year-old's coat is awash with sweat but Toomey is cucumber-cool. As he has already said, it's all he's ever done, and he looks just as he says he feels, a happy young man occupied in his heart's desire. He began riding out again as soon as he was permitted, a year after his fall, and the physical activity did his mental state the world of good.
"I wasn't 100 per cent, wasn't even near 100 per cent when I started riding out a year after the injury, but I could feel myself getting better all the time.
"It wasn't a big step for me, it wasn't difficult at all, just getting back on a horse. Fitness-wise I had a lot of work to do, I felt I wasn't effective to start with, but the more I rode the fitter I got.
"When I was riding before I was never as fit as I could have been, I never overworked myself. I'm fitter, stronger and wiser now."
Brian Toomey riding out in Middleham on Kings Grey, trained by Phil Kirby
PICTURE:
Louise Pollard
On reporter's notebook is written the word 'bottle?' It barely seems worth asking, given Toomey's progress, given his general outlook of fearlessness allied to a little bravado where the fearlessness wears thin, but sometimes a silly question produces a sensible answer.
Before he answers he tilts his head, parts his curly hair to better show the livid scar where the metal meets bone, mulls it over judiciously before concluding blandly that a third of his skull has been removed, replaced. Then the answer comes, unencumbered by doubt or frailty.
"I've never worried, not even a little bit in the back of my mind, about having a fall. I know I'll have plenty anyway, so I can't worry about it. Since I've been riding out I think I've come off seven times, had two or three bad ones, but I'm 100 per cent.
"As soft as it sounds, the first time I went up the gallops was nothing special to me, because I'd been dreaming about it for long enough beforehand so when I eventually started doing it again it was just like picking up where I'd left off.
"Mind you," and he chuckles blackly, "I don't really remember it, because my memory's been so bad."
Re-applying for a licence
It has all been part of the process to restore Toomey to the rank of full-time jockey, where he feels so keenly he belongs. More than once he says what a long road back it's been, although that's only been for his own good. The BHA's medical department will have expected his request, but they may not have expected the fervour behind it, nor the amazing recovery and rehabilitation that eventually made it possible for them to say yes.
"After a serious head or brain injury, you can't reapply for your licence for a year afterwards," he says, "so I reapplied when the year was up, but I think the BHA tested me even more thoroughly than they might otherwise have done before giving me the go-ahead.
"It was a big shout from them. I had a couple of top neurosurgeons on my side, saying that they couldn't see a reason why I couldn't come back, and I think that made the BHA more willing to accept it.
"While the decision was up in the air it affected my recovery a little, what with the worry – when am I going to find out? what's going to happen next? But [BHA chief medical adviser] Dr Jerry Hill has been very good to me. I was told the good news face to face but I didn't really believe it was true until I got the letter."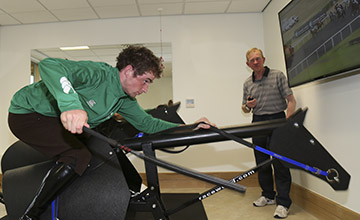 Brian Toomey during a race-riding tutorial with jockey coach Tom O'Ryan
PICTURE:
Louise Pollard
Now, the next logical step, a small step for a jockey but a giant leap for Brian Toomey, is the ride aboard Kings Grey in a novice hurdle at Southwell next Sunday. He no longer has the status of conditional jockey, having reached the age of 26, but he'll still be able to claim 3lb and the BHA has made an exception to its rules by allowing him the services – like all conditionals and apprentices – of a jockey coach.
Toomey has thus been benefiting from the astute surveillance of the Racing Post's own Tom O'Ryan, who has been encouraged by what he has seen.
"We've had several sessions together and will get a couple more in before he returns at Southwell," says O'Ryan. "I'd be pretty confident Brian will be able to do himself full justice on his comeback ride."
Long list of thank yous
Kings Grey is certainly in good form, having won at Aintree last time out under Toomey's great friend James Reveley, with whom he shares a house at Lingdale, near Redcar. Reveley is one of the first names on the list of those Toomey wants to thank, a long list and one that has been carefully, gratefully compiled.
"Lots of friends, all my family," he starts, conscious that this might turn into one of those interminable Oscar-winner speeches. "My Dad has multiple sclerosis and Parkinson's, and his attitude towards his problems has been an inspiration to me.
"My parents are very proud of me – they never sat me down and said 'are you sure this is the right thing?' because they knew it was my goal, they knew it was the one thing that would really help my recovery. They're chuffed I've done what I wanted to do.
"There's my best mates James Reveley and Brian Hughes. Kevin Ryan and his wife Jill, who were very good to me and my family. AP McCoy, who's been inspirational, brilliant to me. Phil and Pippa Kirby, I can't thank them enough, they've been so kind to me. Brian Dunn, who owns Kings Grey, has been an absolute gentleman. Ben Lapham, my new sponsor. There are so many people I'd like to mention but you won't have the space."
These supporters will be foursquare behind Toomey as Sunday approaches, although there will also be concern in some quarters about the wisdom of his return to the saddle. Jump racing is dangerous, it has already left a permanent mark on the Irishman, and when he talks of his first ride back as being a fairytale ending to his story, it provokes the thought that fairytales end with the words 'and they lived happily ever after'.
Southwell is only a beginning, not an end, and the truth of it is that the fairytale ending will be a healthy, happy 40-year-old Toomey with his children at his heels after he's become the trainer he eventually wants to be. The concerns are valid, but this is one parade that's impossible to rain too persistently upon.
"I'm so happy about coming back," he says, and the joy of it comes off him in waves. "When I ride at Southwell, it'll mean I've achieved the impossible, I've achieved my goal.
"Hopefully my story can inspire people not just in racing but in the wider world, because this sort of thing happens to people every day, and for me to do what I'm doing will show them there's hope even in the worst of circumstances."
There's something here redolent of Bob Champion's stirring speech after winning the Grand National, that there is always hope and that all battles can be won, and Toomey reaches for the comparison by saying that he'll have to win a National to complete the comeback, or at the very least the Gold Cup.
"Hopefully this won't be the end of the story, just getting back to riding. I've got big ambitions," he says.
Bigger than life after death? He grins, pulls his riding helmet over the metal plate in his skull, walks off to join third lot. Toomey rides again.
Don't miss The Big Read every week in RPSunday - next week Peter Thomas talks to William Buick