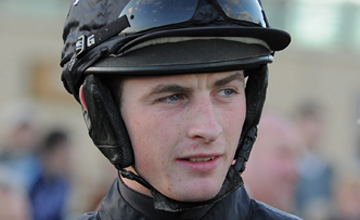 Brian Toomey: hasn't lost his sense of humour
PICTURE:
Martin Lynch (racingpost.com/photos)
Toomey moves hospital as condition improves
BRIAN TOOMEY is continuing to show positive signs of recovery from the fall that left him with serious head injuries and over the weekend he was moved to the James Cook University Hospital in Middlesbrough.
Toomey, whose condition has recently improved significantly, left Ninewells Hospital in Dundee where he had been treated since July 4 on Saturday, and has quickly settled into his new surroundings where he is soon expected to commence a rehabilitation programme.
Toomey was placed in an induced coma after undergoing surgery to his brain in the aftermath of his fall at Perth since when his girlfriend Amy Ryan, last year's champion apprentice, has virtually put her career on hold, having had only one ride in almost six weeks. Ryan took a bad fall herself from Bogart at York on July 27, but while being fit to ride she has chosen not to.
The move to Middlesbrough, where Toomey was on Monday visited by his parents and sister, will curtail the travelling for the 24-year-old's many friends within the racing community in North Yorkshire where he is attached to the stable of Amy's father, Hambleton trainer Kevin Ryan.
Kevin Ryan reported: "Brian is doing great and is well on the way to recovery, and he hasn't lost his sense of humour that's for sure, but it was a very worrying time.
"Thank God he's going to be fine. He's talking and has full movement, but he's been through a lot. He's lost a lot of weight and it will take a while yet for him to fully recover, but he's well on the way. I don't know whether he will ever be able to ride again."
Ryan added: "He's much closer to us now so all his friends can go to see him, some of them have already been to Dundee. There's no date set yet for him leaving hospital."
Toomey's close friend and fellow jockey, Brian Hughes, commented: "Brian was moved from Dundee on Saturday and I saw him twice over the weekend and he's in good form. He's walking and talking and he's doing everything normally.
"He recognises everybody and seems to be himself so it's brilliant. I don't know when Brian is going to start his rehabilitation, but I would imagine it will be fairly shortly."