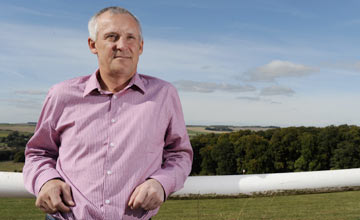 Graham Bradley: submitted an application to train to the BHA last May
PICTURE:
Edward Whitaker (racingpost.com/photos)
Bradley and Powell face disciplinary inquiry
BRENDAN POWELL and Graham Bradley are to face a BHA disciplinary panel hearing, with charges alleging that trainer Powell allowed staff member Bradley to run horses under his name.
Former jump jockey Bradley is not a licensed trainer, despite submitting an application to train to the BHA last May.
The hearing, for which there is no date set, will attempt to ascertain whether Powell assisted Bradley in the training of horses, and then allowed them to be run under his name.
Should Powell be found in breach of rule (A)30, in that his conduct has been prejudicial to horseracing, he could be disqualified or fined, with the entry point a £2,000 fine or disqualification for three months.
The BHA will not be commenting on any further details pending the hearing, including the names of the horses and the races in which they ran.