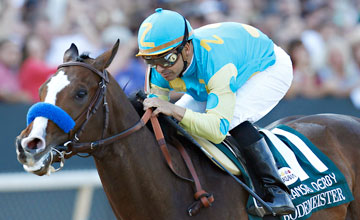 Bodemeister runs away with the Arkansas Derby on Saturday
PICTURE:
Getty Images
Bodemeister team seek to end 130-year trend

WORLD CLASS: an analysis of the international scene according to Racing Post Ratings
IT USED to be so simple.Every Grand National winner for 15 years carried less than 11st. Surely that would continue indefinitely?
It wouldn't. In 2005 Hedgehunter won with 11st 1lb. That became the new benchmark until 2010, when it became 11st 5lb and, now Neptune Collonges has raised the bar again, no doubt the trend will be 'less than 11st 6lb'.
There comes a time when you have to concede that trends, unlike rules, are there to be broken and things have been heading that way in the Kentucky Derby as well.
On Saturday, Bodemeister ran away with the Arkansas Derby, shooting into clear favouritism for the Run for the Roses, but can he crack the biggest trend of them all?
Fifteen years? Pfft. Try 130. Not since Apollo in 1882 has a horse won the Kentucky Derby without running at two. The trends have been tumbling in recent years but will this one?
It used to be the case that a Derby winner would have to run three times at three, but the last five winners all arrived at Churchill Downs on the back of two sophomore preps.
A long lay-off used to be a no no, but Big Brown bucked that statistic by winning off afive-weeker in 2008. In 2009 Mine That Bird didn't graduate from any of the major trials, in 2010 Super Saver broke Todd Pletcher's long winless run and in 2011 Animal Kingdom scored on his first start on dirt, also extending the lay-off period to six-weeks.
It seems a trend is broken every year. It's the same in the Grand National and I believe that is how it should be. To win a race of such magnitude a horse should create his own mould.
Very few big race winners manage to fit the precise shape of a past winner and fill every aspect. At best they could fill most of it and break it in places.
If we expand the mould metaphor, fitting trends is like chipping away at all the runners in a race until one squeezes into your mould. You're left judging horses on less than their whole and the one who best fits your mould may actually just be the least substantial.
The strict adherence to trends more often than not produces a box-ticker who lacks the number one requisite for any race: class. Bodemeister has class.
There is no structure to implementing trends, but it would make just as much sense to oppose the conventional view and look for a horse who has reason to break a popular trend, as to find a horse who fits them all.

Saturday's Grand National winner Neptune Collonges is a grey, French-bred, arrived off a 56 day layoff, BHA rated 157, carried 11st 6lb, in his eighth season, three years past his best and trained by Paul Nicholls. Now that's a mould breaker. But he was also a triple-Grade 1 winner. Class.
Maybe 2012 is the year for making history? Connections of Bodemeister will certainly hope so - and he does have the number one requisite on his side.
It is a big one, though. 1882. Not really a trend any more. History, rather. But does the calendar really affect what a horse is capable of doing onthe first Saturday in May?
When statistics are that long-standing there is normally a reason. The format of the race itself may be part of the reason, since for the last 26 renewals it has been graded stakes earnings that has got a horse into the Derby.
Racking up graded earnings often takes more than the four months Bodemeister has had to get to his safe berth. Bob Baffert's charge was nowhere near the top 20 going into the weekend and if he had finished second he may not have made the final cut.
Selectively or lightly raced horses therefore don't fill many of the 20 spots eachyear, which gives them less opportunity to win.
Another reason may be the number of horses who have actually tried it. If you've got a Derby horse why wouldn't you have run at two?
This ties in with the traditionalist view: 'that's how you win a Derby, so that's how we're going to win a Derby'.
Fans of the 130-year-old stat might argue that it has something to do with experience, knowledge, the learning curve, conditioning, Pope Gregory XIII or the lunar cycle. But given the right horse and the right circumstances it is hard to see why even this statistic spanning three centuries cannot be broken.
There has been some recent evidence to support Bodemeister's Derby claim. Bernardini and Curlin both won the Preakness without running at two and that race is only two weeks after the Derby.
Then there was Fusaichi Pegasus, who ran just once at two, in December, finishing second in a maiden. He then ran four times at three, just as Bodemeister has done.
Does that December maiden defeat count for anything? Is that the reason Fusaichi Pegasus could win the Run for the Roses and Bodemeister can't?
If it's experience that counts, Bodemeister has run just as many times as Animal Kingdom had before winning last year and once more than the 2008 winner Big Brown.
Bodemeister stormed away with the Arkansas Derbyon the weekend. He set his own pace but the time was fast and he stretched clear of some smart rivals, headed by Rebel winner Secret Circle.
A nine-and-a-half length winning margin, backed by thesmart time, earned Bodemeister an RPR of 123, which puts him above Union Rags (122) at the top of the crop.
The trend used to be for Kentucky Derby winners to be hard as nails, raced-ten-times, grinders, but lightly-raced horses like Fusaichi Pegasus, Barbaro, Big Brown and Animal Kingdom have changed that recently, paving the way for the two-year-old jinx to be broken.
In the Kentucky Derby, Bodemeister will have questions to answer. It will be the toughest race of his life. There will likely be a frantic dash from the gates, traffic trouble, crowding, he may have to sit just off the pace, he may not getthe ideal draw, but...
The result of the race will be down the the quality of the horse himself. If he's up to the challenge, and gets the breaks, he'll win.
It won't matter that he didn't run in Gregorian last.
Star mare Atlantic Jewel posted the best RPR of last week, matching her peak RPR of 124 for an easy success in the Sapphire Stakes at Randwick.
Top List (country trained)
| | | | |
| --- | --- | --- | --- |
| | Name (country trained) | Race | Rating |
| 1 | Black Caviar (Aus) | Lightning Stakes | 130T |
| 2 | Hay List (Aus) | Newmarket Handicap | 129T |
| 3 | Orfevre (Jap) | Hanshin Daishoten | 128T |
| 4 | Cityscape (GB) | Dubai DutyFree | 126T |
| | Monterosso (UAE) | Dubai World Cup | 126A |
| 6 | Ambitious Dragon (HK) | Stewards' Cup/HKGC | 125T |
| | Cirrus Des Aigles (Fr) | Sheema Classic | 125T |
| | Foxwedge (Aus) | William Reid | 125T |
| | St Nicholas Abbey (Ire) | Sheema Classic | 125T |
| | Caleb's Posse (US) | Carter Handicap | 125D |
Top Turf Performers
| | | | |
| --- | --- | --- | --- |
| | Name (country trained) | Race | Rating |
| 1 | Black Caviar (Aus) | Lightning Stakes | 130 |
| 2 | Hay List (Aus) | Newmarket Handicap | 129 |
| 3 | Orfevre (Jap) | Hanshin Daishoten | 128 |
| 4 | Cityscape (HK) | Dubai Duty Free | 126 |
| 5 | Ambitious Dragon (HK) | Stewards' Cup/HKGC | 125 |
| | Foxwedge (Aus) | William Reid | 125 |
| | St Nicholas Abbey (Ire) | Sheema Classic | 125 |
| | Cirrus Des Aigles (Fr) | Sheema Classic | 125 |
| 9 | Rain Affair (Aus) | Expressway/Apollo | 124 |
| | Atlantic Jewel (Aus) | Sapphire Stakes | 125 |
| | Rulership (Jap) | American Jockey Club Cup | 124 |
| | ToThe Glory (Jap) | Shinshun Hai | 124 |
Top Dirt Performers


Name (country trained)
Race
Rating
1
Caleb's Posse

(US)

Carter Handicap

125
2
Bodemeister (US)
Arkansas Derby
123


Game On Dude (US)
San Antonio

123


Smart Falcon (Jap)
Kawasaki Kinen
123
Jackson Bend

(US)

Carter Handicap

123
6
Amazombie (US)

Potrerop Grande Stakes

122


The Factor (US)
San Carlos

122
Union Rags (US)
Fountain Of Youth

122
9

Awesome Maria (US)
Sabin Stakes

121
Mucho Macho Man (US)
Gulfstream Park Hcap

121
Ultimate Eagle (US)
Strub Stakes

121
Nates Mineshaft

(US)

New Orleans Hcap

121
Top AW Performers
| | | | |
| --- | --- | --- | --- |
| | Name (country trained) | Race | Rating |
| 1 | Monterosso (UAE) | Dubai World Cup | 126 |
| 2 | Krypton Factor (BHR) | Golden Shaheen | 123 |
| 3 | Musir (SAF) | Maktoum Challenge R1 | 122 |
| 4 | African Story (UAE) | Godolphin Mile | 121 |
| 5 | Capponi (UAE) | Dubai World Cup | 120 |
| 6 | Planteur (GB) | Dubai World Cup | 119 |
| 7 | Prince Bishop (UAE) | Meydan Hcap | 118 |
| | Dullahan (US) | Blue Grass Stakes | 118 |
| | So You Think (UAE) | Dubai World Cup | 118 |
| 10 | Daddy Long Legs (Ire) | UAE Derby | 117 |