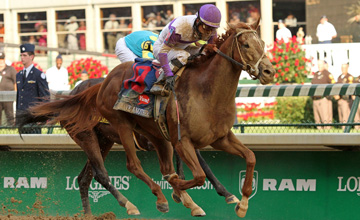 I'll Have Another wears down Bodemeister in the Kentucky Derby
PICTURE:
Jessie Holmes/EquiSport Photos
Bodemeister can prove he's top of his generation

WORLD CLASS: an analysis of the international scene according to Racing Post Ratings
When Bodemeister posted 22.32sec for the first quarter-mile of the Kentucky Derby the race could have gone two ways.
The trackwas running fast, so there was a chance he could make all in a fantastic time and be welcomed with a wreath of roses as the second coming (the first being Secretariat, not Jesus).
But the second option, beingthe non-Secretariat one, was far more likely. This was that he would burn out in the home straight and this is what happened.
The horse still comes out of the race with a lot of credit, having run the first 6f in the fourth quickest time in the race's 138-year history (1min 09.8sec) and still managing to finish second.
He went very hard early. On the back straight there were only two horses within five lengths of him - the sprinter Trinniberg on his tail and Hansen, who was about four lengths away.
Those two faded much more notably than he did in the straight, which indicates that Bodemeister gave a performance a lot more noteworthy than his finishing position suggests.
Breaking 70 seconds over the first 6f of a 1m2f race is both brave and foolish. It requires an average of around 11.6sec per furlong.
In the final 4f of Saturday's race Bodemeister slowed markedly, averaging over 13sec per furlong. The winning time was 2min01.83sec.
If any horse had managed to maintain that early gallop all the way to the line, they would have finished in an insane 1min 56.33sec. Secretariat holds the race record at 1min 59.40sec.
So the sectionals tell us the same thing that giving a lead to Trinniberg told us: he went way too fast. But the splits don't offer much guidance on how far he might have won by with a more patient ride.
Judged on the visual impression left by that performance, he should prove to be top of his generation in the coming weeks and months. The Preakness may come too soon after such a lung-buster, but it's a common route and he is still lightly raced.
Over the shorter trip of the Preakness, Bodemeister might just get away with a narrow win under a similar ride, but if he were to run an even race, getting through the first 6f in 71 seconds, he might be capable of something a bit more special.
I'll Have Another was the one to capitalise off the stern fractions, staying on past Bodemeister to score by a length and a half.
The winner posted an RPR of 126, which is in line with the race average. Bodemeister hit 125+ in second, with Dullahan running to 122 in third.
Bodemeister's success in the Arkansas Derby has been subsequently raised to 126+ in light of this run. That is the best view of the Oaklawn race but it may not be a maximum for the horse.
Baffert's previous leading three-year-olds Real Quiet, War Emblem, Silver Charm, Lookin At Lucky and Point Given all wound up with ratings in the 127-131 range.
That's the sort of figure I'd expect judged on his Kentucky Derby performance, but some people fancy this one might be even better.
The Classic season also started with a bang in Europe at the weekend, with Aidan O'Brien taking the 2,000 and 1,000 Guineas.
This was a welcome change of luck for the Irish trainer, who had suffered a relatively long losing run on the British classic scene (four years and 53 runners) by his own high standards.
The winning sequence may yet roll on to Epsom and beyond, as he looks to hold a very strong team of colts and fillies in the Classic division this year and further success looks inevitable.
Other than being the trainer of Camelot, perhaps the biggest reason he looks set to extend his grip on the three-year-old ranks this season is the underperformance of the Godolphin horses.
Coolmore and Godolphin absolutely dominated the ante-post lists for Newmarket and Epsom, but while the Irish operation have come out firing, the Dubai outfitseem to have gone the other way.
Mahmood Al Zarooni had a great time of it in Dubai, winning the Gold Cup and getting the 1-2 in the World Cup, but his European season has started very slowly.
The vibes for Al Zarooni's leading fillies, Lyric Of Light and Discourse, had not been good going into the weekend, but they ran abysmally, finishing last and second last in the 1,000 Guineas.
They were both unbeaten, highly talented and hugely promising juveniles, but they were hammered on Sunday.
And they are not alone - one of their leading colts, Mighty Ambition, was withdrawn from the 2,000 Guineas after finishing only fifth, beaten 11 lengths when favourite for the Craven.
Saeed Bin Suroor had developed a reputation as a slow starter, but Al Zarooni had, in his first two seasons, managed to be up and running in time for the Guineas - even winning the 1,000 last year with Blue Bunting.
With just a month to go until Epsom you have to wonder whether the Godolphin team will get anything readyin time for the Derby and Oaks.
Coolmore's team, on the other hand, is so rich with talent that their problem may be in isolating just which horses to run in which races.
It isn't just their big-race favourites they have to consider. They have had a lot of interesting horses running well in the Classic trials in Ireland recently and any of them could prove to be top drawer - just as 25-1 shot Homecoming Queen did on Sunday.
Perhaps the biggest threat to Camelot in the Derby will come from his own yard. Judged on the form of their three-year-olds, you wouldn't think it would come from Godolphin.
Camelot posted an RPR of 123 for his neck win over French Fifteen (122) in the 2,000 Guineas, while Homecoming Queen ran to a mark of 121 for her nine-length romp in the 1,000 Guineas.
TOP OF THE CLASS: I'll Have Another 126 Doug O'Neill (US) (Kentucky Derby, Churchill Downs, 1m2f, 5 May)
TOP LIST
| | | | |
| --- | --- | --- | --- |
| | Name (country trained) | Race | Rating |
| 1 | Black Caviar (Aus) | Lightning Stakes | 130T |
| | Cirrus Des Aigles (Fr) | Prix Ganay | 130T |
| 3 | Hay List (Aus) | Newmarket Handicap | 129T |
| 4 | Orfevre (Jap) | Hanshin Daishoten | 128T |
| | Wise Dan (US) | Ben Ali | 128A |
| 6 | Bodemeister (US) | Arkansas Derby | 126D |
| | Cityscape (GB) | Dubai Duty Free | 126T |
| | I'll Have Another (US) | Kentucky Derby | 126D |
| | Monterosso (UAE) | Dubai World Cup | 126A |
| 10 | Foxwedge (Aus) | William Reid | 125T |
| | Caleb's Posse (US) | Carter Handicap | 125D |
| | Rulership (Jap) | QEII Cup | 125T |
TOP TURF PERFORMERS
| | | | |
| --- | --- | --- | --- |
| | Name (country trained) | Race | Rating |
| 1 | Black Caviar (Aus) | Lightning Stakes | 130 |
| | Cirrus Des Aigles (Fr) | Prix Ganay | 130 |
| 3 | Hay List (Aus) | Newmarket Handicap | 129 |
| 4 | Orfevre (Jap) | Hanshin Daishoten | 128 |
| 5 | Cityscape (HK) | Dubai Duty Free | 126 |
| 6 | Rulership (Jap) | QEII Cup | 125 |
| | Foxwedge (Aus) | William Reid | 125 |
| 8 | Ambitious Dragon (HK) | Stewards' Cup/HKGC | 124 |
| | St Nicholas Abbey (Ire) | Sheema Classic | 124 |
| | Rain Affair (Aus) | Expressway/Apollo | 124 |
| | More Joyous (Aus) | Sapphire Stakes | 124 |
| | Atlantic Jewel (Aus) | Sapphire Stakes | 124 |
| | To The Glory (Jap) | Shinshun Hai | 124 |
TOP DIRT PERFORMERS


Name (country trained)
Race
Rating
1
Bodemeister (US)
Arkansas Derby
126
I'll Have Another (US)
Kentucky Derby
126
3
Caleb's Posse

(US)

Carter Handicap

125
4
To Honor And Serve (US)
Westchester S
124
5

Game On Dude (US)
San Antonio

123


Smart Falcon (Jap)
Kawasaki Kinen
123
Jackson Bend

(US)

Carter Handicap

123
8
Amazombie

(US)

Potrerop Grande Stakes

122
Dullahan (US)
Kentucky Derby
122


The Factor (US)
San Carlos

122
Union Rags (US)
Fountain Of Youth

122
TOP ALL-WEATHER PERFORMERS
| | | | |
| --- | --- | --- | --- |
| | Name (country trained) | Race | Rating |
| 1 | Wise Dan (US) | Ben Ali | 128 |
| 2 | Monterosso (UAE) | Dubai World Cup | 126 |
| 3 | Krypton Factor (BHR) | Golden Shaheen | 123 |
| 4 | Musir (SAF) | Maktoum Challenge R1 | 122 |
| 5 | African Story (UAE) | Godolphin Mile | 121 |
| 6 | Capponi (UAE) | Dubai World Cup | 120 |
| 7 | Planteur (GB) | Dubai World Cup | 119 |
| 8 | Prince Bishop (UAE) | Meydan Hcap | 118 |
| | Dullahan (US) | Blue Grass Stakes | 118 |
| | So You Think (Ire) | Dubai World Cup | 118 |