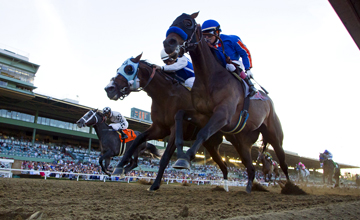 Game On Dude (near) is around the 7-1 mark for the Dubai World Cup
PICTURE:
Alex Evers/EquiSport Photos
Baffert 'in high spirits' after heart surgery
TRAINER Bob Baffert is "in high spirits" in hospital after emergency heart surgery on Monday, according to the ownerof his Dubai World Cup contender Game On Dude.
Baffert, 59, suffered a heart attack early on Monday but is already planning to be at Meydan on Saturday night to watch the World Cup.
"I just spoke to him and he's training from the bed," owner Bernie Schiappa said on Tuesday morning. "I'd say the probability is very good that he will be here on Saturday.
"He would come here now if he could and he says he'll have a doctor with him to watch the race in case it gets too much - but that's Bob's humour."
He added: "We appreciate everybody's concerns and efforts and I don't want to get too emotional but Sheikh Mohammed was a class act. He's a friend for life after what he did."
Game On Dude, around the 7-1 mark for the World Cup, narrowly lost out in last year's Breeders' Cup Classic and Schiappa feels he has a strong chance of gaining compensation on Saturday.
"He's a fighter, that's how he races. He's game and never gives up," he said. "He breezed yesterday and breezed very well. He's fit and ready to run."