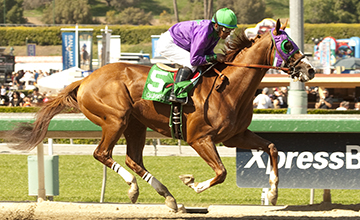 California Chrome: "Our dream doing exactly what we thought he could"
PICTURE:
Benoit Photo
Dreams can come true and they have for Coburn
The Racing Post's former US correspondent Dan Farley reflects on Saturday's fairytale Kentucky Derby
INNOCENCE is a wonderful thing when experienced, and probably the most common source is from children.
How refreshing it is then to find it in its purest form from an adult.
That is just what the audience for the Kentucky Derby got from Steve Coburn, co-owner and -breeder of winner California Chrome.
To many in the racing game, looking to win a Kentucky Derby with a horse bred from an $8,000 mare and a $2,000 stud fee would represent folly at best. But not to those who innocently believe in their dream.
Coburn and his partner, Dumb Ass Partner (they bought mare Love The Chase under the name DAP Racing), that is, Perry Martin realised that dream at Churchill Downs on Saturday as Coburn fully expected they would.
Coburn said in the days leading up to the Derby: "This horse will win the Kentucky Derby. I think it's a done deal."
And why not?
After all, Coburn and Martin had bred the horse, the first California-bred to win the Classic since Decidedly in 1962, with the Derby fully in mind. They even went so far as to give trainer Art Sherman a list of races to get their horse to Churchill Downs on the first Saturday in May.
It's unlikely, any owner of a Derby horse has ever been more confident of victory.
The partners had been offered some $6 million for 51 percent interest in California Chrome before the race, to which Coburn said: "No, it's our dream."
And the dream was not for sale, at any price. The running of the race actually proved to be a bit anti-climactic.
With California Chrome having gotten away from the gate cleanly (which he has not always done) and secured an ideal position just off a slow early pace, it was indeed a "done deal".
One can easily understand that winning a Kentucky Derby would be an overwhelming experience.
But Coburn's demeanour after his horse reached the finish line clearly demonstrated it was ever so much more.
Breathless, he had a stunned look on his face that said: "Damn, it really was a done deal."
Even trainer Sherman, who last was at Churchill Downs when the great Swaps, whom he galloped, won the Derby in 1955, appeared stunned that the dream had been realised. Innocence abounded.
Coburn put a final touch on things while watching a replay of the Derby in the media room.
"Our dream child doing exactly what we thought he could do when he was a baby," he said to no-one in particular. Oh, by the way, Coburn turned 61 on Saturday.
The question now becomes, what do you get a man who has everything?
Well, how about a Preakness victory and, dare we say, another in the Belmont Stakes as well?
Now that really is dreaming ... innocently, of course.