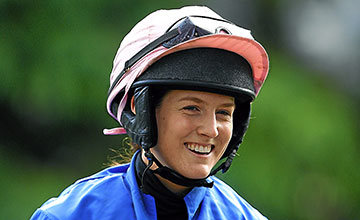 Rachael Blackmore: lost her appeal against stewards' decision
PICTURE:
Patrick McCann (racingpost.com/photos
Blackmore and Holden lose Look Closer appeal
JOCKEY Rachael Blackmore and trainer Ellmarie Holden have lost their appeals against the penalties imposed on them at Fairyhouse on February 4 when the acting stewards found them in breach of rule 212 over the running and riding of Look Closer after the gelding finished tenth in a 2m maiden hurdle.
At Fairyhouse Blackmore was banned from riding for five days, Holden was fined €2,000 and Look Closer was banned from racing for 42 days, penalties that were confirmed by the Turf Club's Appeals Committee at a hearing which lasted over four hours at Turf Club headquarters on the Curragh on Thursday night.
In what was the first Appeal Hearing since rule 212, the so-called non-trier rule, was updated and put in place on January 1.
Evidence was heard from Holden, Blackmore, jockey Donagh Meyler, who had ridden Look Closer in his two previous races over hurdles, and veterinary surgeon Michael Sadlier of the Troytown Veterinary Hospital in Kildare.
The case for the appellants was presented by Andrew Coonan, on behalf of Blackmore and Patrick Kennedy, who represented Holden. Barrister Louis Weston made the case on behalf of the Turf Club.
The evidence given by rider and trainer emphasised that Look Closer had weakened out of contention when ridden aggressively by Meyler when he ran at Fairyhouse on January 15 and at Naas on January 28 and that it was decided that the horse might be a non-stayer and that Blackmore would use different tactics.
In her evidence Blackmore, the leading claimer in Ireland this season and one of Ireland's two female professional jump jockeys, admitted she was not hard on Look Closer and that when she nudged him along and slapped him he was just running up and down on the one spot.
Blackmore added that the horse was not stretching out and that he did not pass any horse on the run from the final hurdle. She felt Look Closer was giving her all he had and that had she given him a few cracks of the whip he would not have finished any closer.
Look Closer was found to be slightly lame when examined by the Turf Club veterinary officer after the race and Sadlier confirmed that when the horse was brought to the Troytown Hospital after racing he was found to be lame behind. The horse remained in Troytown overnight and, according to Sadlier, was found to be more lame the following morning.
After a ten-minute break to deliberate, the Appeals Committee dismissed the appeal and upheld the decision of the Fairyhouse stewards in relation to their findings and penalties. According to the chairman of the Committee, the veterinary evidence presented was not deemed to be "particularly relevant " to the case.
Coonan described the outcome as "very disappointing considering the evidence given" while Kennedy said: "I'm very disappointed by the Committee's decision."
Blackmore and Holden forfeited their deposits of €500 each, while costs of €500 are to be divided equally between the trainer and rider.