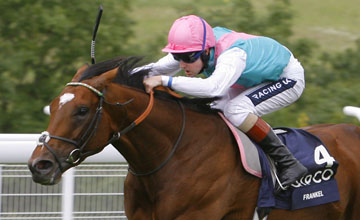 Frankel: colt earns ranking equal to that achieved by Sea The Stars
PICTURE:

Mark Cranham

(racingpost.com/photos)
Superstar colt Frankel rated best in the world
FRANKEL was named world champion racehorse on Tuesday when he topped the World Thoroughbred Rankings (WTR) for 2011.
The spectacular Henry Cecil-trained colt, who will take his nine-race unbeaten record into 2012 as a four-year-old, was awarded a rating of 136 - the same as Sea The Stars in 2009.
Australia's superstar sprinter Black Caviar was Frankel's closest pursuer in the annual international league table, put together by a team of senior international handicappers on behalf of the International Federation of Horseracing Authorities (IFHA).
Set to run at Royal Ascot this season, the five-year-old mare easily retained her status as world champion sprinter with a mark of 132, which makes her 4lb inferior to Frankel, who was also completing back-to-back championship seasons after being named Europe's top two-year-old (alongside Dream Ahead) in the 2010 lists.
The WTR were unveiled on Tuesday afternoon at a press conference in London. Other notable features included another share in the European juvenile ranks where Racing Post Trophy winner Camelot and leadingFrench colt Dabirsim head the list on a mark of 119.
Europe's champion filly is the Prix de l'Arc de Triomphe winner Danedream, who is joined in third place overall on the 128-mark by Champion Stakes winner Cirrus Des Aigles.
Also taking high rank on 127 are top miler Canford Cliffs and the ill-fated Prince of Wales's Stakes winner Rewilding.
Top-rated stayer is the 2010 Melbourne Cup winner Americain on 123, while the highest figure recorded in Europe is the 121 achieved by Fame And Glory and Masked Marvel in the Ascot Gold Cup and St Leger respectively.
Well adrift of Black Caviar's world-best mark in the sprinting division, Deacon Blues and Dream Ahead share European honours on 120 - fully 12lb beneath the Australian mare.
Black Caviar: supermare rated world champion sprinter with a mark of 132
PICTURE:
Getty Images
The number one dirt performer on the list, way down overall on 124, is Breeders' Cup Classic winner Drosselmeyer.
Frankel's mark of 136 recognises his claims to greatness - he has duly been accorded one of the highest marks in recent seasons. Sea The Starsis the only other horse to have hit such a mark since Peintre Celebre's 137 in 1997.
However, even such a straightforward comparison is fraught with confusion as the ratings have been compressed a little since then, which means the136 is probably worth more than Peintre Celebre's 137 in real terms.
For this reason, higher marks achieved in earlier years, when ratings around the 140-mark were regular, must also be taken with more than a pinch of salt.
According to Racing Post Ratings, Frankel should have been awarded an even higher rating. "The official figures come under far greater pressure now than the early days of purely European competition when 140s where handed out like sweets," explained senior Racing Post handicapper Paul Curtis.
"The relevance of comparison with past rankings, certainly pre-1995 when US horses where included for the first time, is questionable.
"Even so, Frankel could have ranked higher still and his Racing Post Rating of 139+ is the best recorded on turf since RPRs began in 1986. Although the rankings parameters have changed several times since then, the past figures are still there in the record books and it seems wrong that Frankel should rate behind the likes of Generous and Peintre Celebre."
WTR TOP 20 OVERALL

1 Frankel (GB) 136
2 Black Caviar (Aus) 132
3 Cirrus Des Aigles (Fra) 128
Danedream (Ger)
5 Canford Cliffs (GB) 127
Rewilding (GB)
7 Dream Ahead (GB) 126
Excelebration (GB)
Nathaniel (GB)
So You Think (Ire)
11 Rocket Man (Sing) 125
Twice Over (GB)
Workforce (GB)
14 Drosselmeyer (USA) 124
Goldikova (Fra)
St Nicholas Abbey (Ire)
17 Acclamation (USA) 123
Americain (Fra)
Orfevre (Jap)
Sepoy (Aus)
Strong Suit (GB)
Tizway (USA)
Suffixes refer to country trained
Get our definitive 12-page World Thoroughbred Rankings pullout in tomorrow's Racing Post download the NEW digital newspaper from 3am