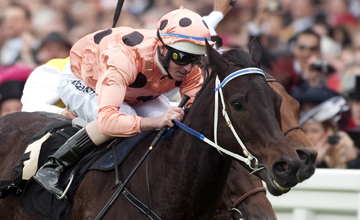 Black Caviar: decision on whether she will race again is yet to be made
PICTURE:
Edward Whitaker (racingpost.com/photos)
Black Caviar may return after starting light work

BLACK CAVIAR has returned to light work as trainer Peter Moody mulls over whether to let the wondermare race again.

Unbeaten in 22 starts, Black Caviar has not been seen since her narrow victory in the Diamond Jubilee Stakes at Royal Ascot, with her participation in the Melbourne spring Carnival ruled out some time ago.

However, she could still return to action, and Moody said: "We all want to see her race again."

Speaking to The Age, he added:"I think Australia wants to see her race again. But bearing in mind it's never been a financial thing with the owners - they're not desperate. We're not going to race her for the sake of racing her. We all want to protect what she's done.

"She's back doing light work this week and we're very pleased with her condition. She looks superb. But if I feel that she doesn't want to be there or there's an issue with her soundness, I won't hesitate to retire her. It would still give her plenty of time in the breeding season. She can be covered by a stallion the next day if that's the path we take."

However should she return and lose her unbeaten record, Moody is aware of the inevitable criticism it would spark. "I know I am the person who's going to be kicked to death if she gets beaten and the owners will be called money-grabbing people - and a lot worse than that," he added.

"She's got this aura of invincibility. That's what has endeared her to the greater public, so we're very mindful and protective of that."

The Lightning Stakes at Flemington, a race Black Caviar has won for the last two years, could be a potential target next February if she were to return.