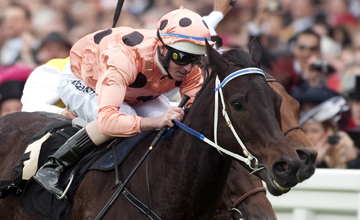 Luke Nolen called his ride on Black Caviar one of the worst of his life
PICTURE:
Edward Whitaker (racingpost.com/photos)
Nolen: Caviar will tell us when she's ready to go
Australia: Jockey Luke Nolen says Black Caviar will let everyone know when she's ready to retire after the mare pulled up sore following her dramatic win at Royal Ascot.
Nolen says he has mixed emotions over what he called one of the worst rides of his life, which nearly cost Black Caviar her 22nd straight win when he eased her up 50m from the finish line to scrape home in the Diamond Jubilee Stakes by a nose.
"It should have been one of the biggest days of my life," he told reporters on Thursday. "Being my own worst critic, my ride being the story of the day, it didn't sit well with me.
RELATED LINKS
"Unfortunately that's my cross to bear. I'm comfortable with it now. It took me a few cans on Saturday night to get right with it."
Nolen says trainer Peter Moody will assess the mare when she returns to Australia after slightly tearing muscles on her hind quarters in Saturday's run.
"Time will tell whether or not she makes it back for the spring or whether she's retired," Nolen said. "Pete's very protective of her record, that's all we want to do.
"I'll be happy for her to press on. Like all the horses in Pete's care, the horse comes first and she'll tell us.
"It'd be [with] great pride that when she is retired that I was associated with one of the best horses I've ever seen, ever ridden and may ever see."
Nolen said Black Caviar didn't feel her usual self and pulled back on him late in the race in a way horses only do when they're sore.