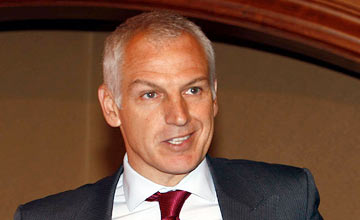 Paul Bittar: told owners fewer fixtures wouldn't mean higher prize-money
PICTURE:
Dan Abraham
Bittar delivers clear fixture message to ROA

THE BHA'S objective is to build a 2013 fixture list based on the principles of supply and demand, its chief executive Paul Bittar said on Tuesday as he made clear his belief that fewer fixtures would not result in higher prize-money.
He said the BHA would seek to satisfy demand from racecourses and their customer groups - horsemen, bookmakers and broadcasters - balanced by supply constraints from the horse population to produce a fixture list which had the support of stakeholders and customers.
RELATED LINKS
"A more structured and inclusive approach is being applied to the compilation of the 2013 fixture list and this will be further developed for 2014 and beyond," Bittar said.
He told the Racehorse Owners Association's annual general meeting: "The information we have clearly indicates that a reduction in fixtures would result in a reduction in industry revenue, so the contention that less fixtures would result in higher prize-money is simply not supported by the data we have.
"And following consultation it is clear that demand for fixtures from both the betting industry and racecourses remains (at least) on a par with that of 2012."
Bittar said while the fixture list would be "consumer focused", the race programme itself would best reflect the needs of the horse population to "better meet the demand of not only owners and trainers, but all the sport's customers too".
Maintaining current fixture levels against a declining horse population would be likely to have an impact on field sizes, Bittar added.
To counter that, he said: "We need to be much more innovative about our handicapping and racing policies to encourage more starts per horse per season.
"If we could achieve one more start per horse per season . . . we would deliver an additional 20,000 runners per season, which would cure all of our concerns about the size of the fixture list."