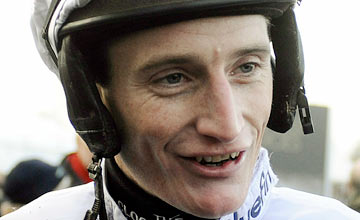 Daryl Jacob: failed in appeal against ten-day ban incurred at Wincanton
PICTURE:
Getty Images
Daryl Jacob fails in appeal against riding ban
DARYL JACOB will miss the busy festive period as his appeal against a ten-day ban incurred for dropping his hands at Wincanton on December 6 failed on Thursday morning.

Jacob was adjudged by the Wincanton stewards to have failed to ride out on the Nick Williams-trained Ulis De Vassy in a three-way finish.

It appeared the jockey confused a path that crosses the course 40 yards from the line as the winning post as he momentarily stopped riding. Jacob's mount finished second by a neck, but the stewards were of the opinion he could have won.

At the appeal, Jacob admitted he had made the mistake of thinking the path was the winning post, and that he stoppped riding for three strides.

However, the jockey's argument was that he did not lose momentum and that the winner, Quaddick Lake, was always ready to pounce on him for the lead.

The stewards disagreed with Jacob's case, arguing that he must have lost momentum and that he could have won. Their official reasons for upholding the ban will be released later on Thursday afternoon.

The ban will prove costly for the jockey, who had hoped to get the ban reduced, but with the disciplinary panel upholding the stewards' verdict he will now miss the lucrative period of racing between Christmas and New Year, with his suspension enforced between December 20 until January 1.

A major blow will be losing the ride on Kauto Stone, half-brother to Kauto Star and as short as 12-1 for the William Hill King George VI at Kempton on December 26. Jacob was also due to ride a number of other horses for champion trainer Paul Nicholls.