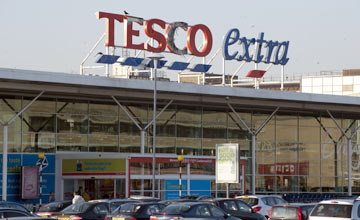 Tesco: one of several stores found to stock beef with traces of horse meat
No link between racing and meat scandal - BHA

THE BHA was adamant on Wednesday that there was no evidence to link racing with the discovery that beefburgers on sale in British and Irish supermarkets were contaminated with horse meat.
At the same time that the sport's governing body was distancing itself from the controversy, a team from the BBC current affairs programme, Newsnight, was filming at Lingfield where a number of racegoers were also interviewed for coverage of the story.
Irish food safety officials, who carried out tests two months ago, said the products, which have since been withdrawn, were stocked by Tesco and Iceland in the UK and Ireland where they were also available in Lidl, Aldi and Dunnes Stores.
Of 27 burger products analysed, ten were found to contain horse DNA and 23 pig DNA.
A full scale investigation has now been launched into the derivation of the meat which came from two processing plants in the Irish Republic, Liffey Meats and Silvercrest Foods, and the Dalepak Hambleton plant in Northallerton, North Yorkshire.
However, as inquiries continue, the BHA is confident the industry will not find itself embroiled in the affair. Spokesman, Robin Mounsey said: "There is absolutely no suggestion at present that there is a connection between racing and this issue.
"We understand that the Newsnight cameras may have gone to Lingfield for the simple reason that there are horses there today, but that is where the link between our industry and this issue ends."
Were concerns to surface that former racehorses could have been involved, investigators would be beating a path to Weatherbys which holds data on every thoroughbred slaughtered at an abattoir in Europe, along with DNA analysis of all thoroughbreds born in Britain and Ireland, but there has been no contact from that quarter.
Weatherbys executive director, Paul Greeves said: "If they were suspicious thoroughbreds were involved, and in particular had some knowledge of the horses that might have been involved, we could tell them whether our records indicate that the horse is dead, and which abattoir dispatched it, if that's what happened."