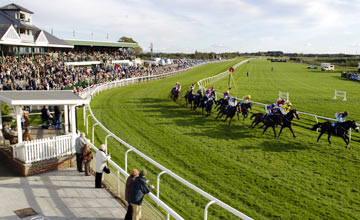 Catterick: plan for all-weather track has support of local trainers
PICTURE:
Edward Whitaker
Catterick track plans gather more support
THE regional chairman of the National Trainers Federation on Tuesday added his backing to plans to create a new all-weather track at Catterick on the day BHA representatives visited the course to speak to management.
Regional NTF members were unanimous in their backing of a northern all-weather track at a meeting on Tuesday and at the same time voiced their opposition to the Arena Racing Company being involved in a new course.
Arc, in the shape of Newcastle, and Catterick, have both recently revealed plans to replace their turf Flat courses with all-weather tracks, while the BHA has commissioned Deloitte to produce a report on the consequences of expanding all-weather racing in Britain.
Regional NTF chairman Tom Tate said: "High transport costs and poor prize-money make it uneconomic for us to run horses on the more southerly tracks and there's no doubt we are suffering financially due to the lack of opportunities in the north. We therefore would very much welcome a northern all-weather track.
"Members were agreed that ideally the track should be located no further south than Wetherby, on the east side of the country and as near as possible to the A1 and the training centres of Middleham and Malton."
Arc's refusal to sign a prize-money agreement with the Horsemen's Group has made them unpopular with trainers, according to Tate.
"Members feel let down by Arc's recent refusal to make the commitment to link media-rights payments with prize-money and, while they have guaranteed a 2014 contribution equivalent to the bottom tier rate, our members are not confident about the future," he said.
"It was also felt to be unhealthy for Arc to have such a dominant position in this market; their poor current performance in maintaining a good surface at Wolverhampton being a case in point."
Representatives from the BHA discussed the matter at the meeting, and on Tuesday they were at Catterick along with Deloitte to speak to the track's management.
John Sanderson, chief executive of International Racecourse Management, which runs the course, reported: "Fundamentally they were on a fact-finding mission.
"We had our team there with the plans, gave them all the facts and answered their questions.
"This is all part and parcel – I assume – of the BHA formulating its policy. Understandably they were fairly guarded, in the nicest possible way."