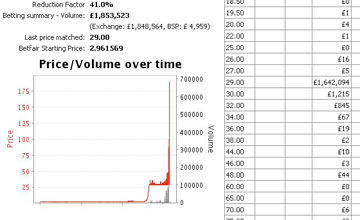 The Betfair graph shows the price on Voler La Vedette skyrocketing with (right) over £1.6m traded at 29
PICTURE:
Robin Gibson
Betfair will not reveal technical glitch details

BETFAIR on Saturday said they would give no further details regarding the exact nature of the "technical glitch" which resulted in the exchange voiding bets worth £23 million.

One Betfair customer, who had less than £1,000 in their account, was faced with that potentially massive payout after an automated betting system, or bot, attached to their account was able to place the rogue bet.

Betfair promised that a "highly technical" explanation of what occurred would be published after internal investigations were completed but the Racing Post has been told that willno longer be the case.

Interim chief executive Stephen Morana said in a statement on Friday that the decision to void all in-running bets placed on the Leopardstown race was taken in accordance with their rules and said it was "similar to the palpable error rule enforced by other bookmakers".

That resulted in some of the exchange's users questioning whether they were liable for their errors.

Clarifying Morana's point, Betfair spokesman Tony Calvin said: "Certain legal provisions are needed to protect online businesses such as ours, otherwise they would not be viable.

"Stephen mentions 'palpable error' because it is a concept many punters will be familiar with. We aren't specifically invoking that same rule but we are saying a business such as ours needs to have the ability to protect itself - legally and contractually - to be viable.
"This is why our terms specifically say we can void markets/ bets if there is a technological failure. It is clear, concise and obviously very much needed."

Calvin continued: "In our case, in our industry, Stephen - and we - thought a reference to the traditional bookmakers' equivalent of 'palpable error' would help people to understand the point."