Biddlecombe recovering after suffering stroke
TERRY BIDDLECOMBE, husband of trainer Henrietta Knight, has had a "good 24 hours" in his recovery from a stroke.
Biddlecombe, who was three-time champion jump jockey in the 1960s, was admitted to Oxford's John Radcliffe hospital on Saturday.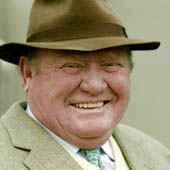 Terry Biddlecombe: more upbeat
PICTURE:
Mark Cranham
"Everything is more upbeat today," Knight wrote on her website. "He has had a good 24 hours and is able to manage to say a few sentences.
"He is not very fluent and gets lost for words, but it is a lot more encouraging and he has an excellent speech therapist. A good few swear words come out!
"He will stay in hospital for a while but is overwhelmed by all the messages he has had from well wishers. Thank you all so much," Knight added.
The pair were responsible for the success of Best Mate, who won the Cheltenham Gold Cup three years running from 2002.