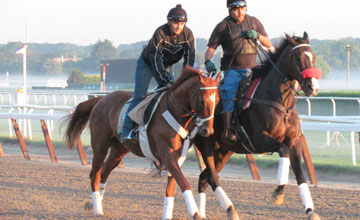 I'll Have Another with Lava Man at Belmont Park on Friday morning
PICTURE:
NYRA
I'll Have Another denied bid for US Triple Crown
I'LL HAVE ANOTHER was dramatically denied a tilt at US racing history at the 11th hour on Friday when injury ruled him out of Saturday's Belmont Stakes and a shot at the US Triple Crown.
The Kentucky Derby and Preakness Stakes hero, who was hot favourite to win the Belmont Stakes to become the first Triple Crown winner for 34 years, has been retired.
His connections broke the shock news on Friday afternoon when they discovered a tendon problem in a front leg following light exercise in the early morning at Belmont Park.
"Pulling him isn't tragic but it's heartbreaking," said trainer Doug O'Neill. "Could he run and compete, yes. Would it be in his best interest? No.
"The bottom line is it's not tragic, no one got killed, there are much bigger issues in the world."
I'll Have Another would have been aiming to become only the 12th Triple Crown winner and the first since Affirmed in 1978.
Only two other Kentucky Derby and Preakness winners were unable to run in the third and final leg of racing's Triple Crown - Burgoo King in 1932 and Bold Venture in 1936.
Sympathy for the O'Neill team came swiftly from trainer Dale Romans, who will saddle Dullahan - likely favourite in the absence of I'll Have Another.
Romans said: "It's a shame, it's sad for the sport," he said. "It would have been a great race."
I'll Have Another had gone out to exercise early on Friday morning, galloping at 5.30am. Romans said he had suspected something was amiss when he saw vets attending to the dual Classic-winning colt.
"I had some suspicions when I got to the barn this morning when I saw the vets working on him," he said. "That's never a good sign."
Although I'll Have Another had looked okay during light exercise early on Friday morning, O'Neill suggested owner Paul Reddam's colt had been a "little quiet" in last few days.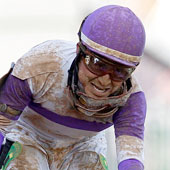 Mario Gutierrez: not disappointed
PICTURE:
Getty Images
"He has been a little quiet the last few days of galloping but his legs have been great," said O'Neill.
"Yesterday he galloped great, but in the afternoon we noticed some loss of definition in his left front leg - we prayed he kind of hit himself and that it was a little bit of skin irritation.
"We did him up in a special poultice, and this morning he looked great. We did just a little easy gallop with him this morning. I thought he looked great on the track.
"Cooling out, you could tell the swelling was back," added O'Neill. "I talked with Mr Reddam and immediately we got Dr. [Jim] Hunt over here.
"He scanned him and he said it was the start of tendonitis in his left front tendon."
Speaking at an impromptu press conference at Belmont Park on Friday afternoon, O'Neill added: "He's not 100 per cent and we ain't taking any chances. I'm just so bummed for the horse, obviously, and then for the whole team.
Normally such an injury would not be career-ending but I'll Have Another will not be racing again. "You give him three to six months and then start back with him," said O'Neill. "But obviously he's done so much, that it was unanimous to retire him. It's a bummer, but far from tragic.
"I'd love to see him back in my barn in a few months but realistically he'll probably be seeing a lot of beautiful mares and smoking a lot of cigarettes."
I'll Have Another, a cheaply bought son of unheralded sire Flower Alley, goes into retirement after a career boasting five wins from seven starts and earnings of $2,629,600.
He was a first Classic winner for O'Neill, Reddam and his little-known Mexican jockey Mario Gutierrez, who has won so many admirers with his cool-as-cucumber efforts during the Triple Crown.
Gutierrez, 25, understood the decision, saying: "I'm not disappointed. We have to take care of the horse."
In a ceremonial tribute, Guttierez and I'll Have Another will still lead the post parade for Saturday's Belmont Stakes.