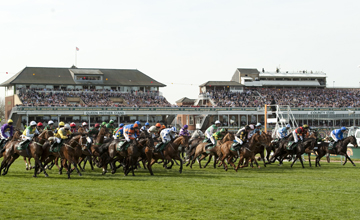 Events such as the Grand National had previously been shown by the BBC
PICTURE:
Edward Whitaker (racingpost.com/photos)
Terrestrial racing to be
shown exclusively on C4
BRITISH racing will be broadcast on terrestrial television exclusively by Channel 4 from 2013 for at least the following four years, after the broadcaster tabled a winning bid to representatives of Britain's second biggest spectator sport to expand its portfolio.
A highly competitive domestic TV rights bidding process drew interest from a range of broadcasters but it was Channel 4 who won the right to air the John Smith's Grand National meeting from Aintree, Investec Derby festival from Epsom, Royal Ascot and Qipco British Champions Day from Ascot, all of which are presently televised by the BBC, to add to their existing 80 days of racing.
The new deal, first revealed by the Racing Post last week, provides substantially increased revenues for British racing, which lured nearly five million extra viewers from its domestic TV coverage on Channel 4 last year (42.2m against 37.4m in 2010), while attendances grew to a record 6.15 million in 2011.
Channel 4's financial commitment to racing over the next four years amounts to one of its largest programming outlays.
Its press release said that, as part of its wider commitment to the sport and a stated focus to strengthen its relationship with broader and younger audiences, Channel 4 will seek to creatively enhance the production values of its racing programmes over the course of the new rights period.
Royal Ascot: key to new coverage
PICTURE:
Edward Whitaker
Negotiations were led by Racecourse Media Group (RMG), alongside The Jockey Club, Ascot racecourse and British Champions Series Ltd as rightsholders, withMartin Baker, director of commercial affairs, at the helm of the Channel 4 team.
Jamie Aitchison, Channel 4's sports editor, said: "I am delighted Channel 4's 28-year association with racing has now arrived at the point where theindustry has demonstrated such confidence in our ability to showcase its complete portfolio.
"This is an opportunity for us to work together to grow the sport, painting the full picture of both the Flat and jumps seasons to attract new viewers whilst rewarding those loyal viewers we value so highly.
"Channel 4 fully understands the heritage and cultural importance of British racing, but also the sport's thirst for a bright future, and we relish the challenge ahead."
Charles Barnett, chief executive of Ascot racecourse, said: "This is a tremendous announcement for racing. The sport is in a great place at the moment and the editorial appeal and popularity of both codes has been apparent through what has been a competitive tender process.
"A one channel scenario will enable us to tell our stories clearly and consistently, and obviously Royal Ascot is fundamental to that.
"I would personally like to thank BBC Television for everything they have done for racing and we look forward to continuing to work with their other platforms."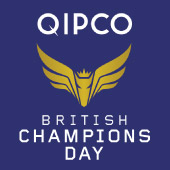 British Champions Day will be shown on Channel 4 next year
York's chief executive William Derby said: "As an existing partner with Channel 4 throughout the 28 years of their coverage of the sport, York looks forward to this latest chapter in the broadcasting of famous races from the Dante and Ebor festivals, as well as major Saturdays on the Knavesmire.
"The ability to tell the story of the Flat racing season from start to finish, with all the flagship meetings and Saturdays in between and under one umbrella, is a new and exciting opportunity that we look forward to being part of."
The new arrangement will mean all 35 races in the Qipco British Champions Series will be on one channel and BCS chief executive Rod Street said: "Since its inception, we've aimed to showcase the very best of British Flat racing within the Qipco British Champions Series via a single domestic terrestrial broadcaster.
"We believe this new deal with Channel 4 will make the series even easier to follow for the racing and wider sports fan. Hugely exciting times lie ahead."
Don't miss Monday's Racing Postfor more news and reaction. Download the paper from 3am or buy the paper as a PDF from 9am