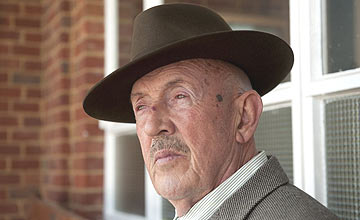 Barney Curley: gambler and trainer to focus on charitable activities
PICTURE:
Edward Whitaker (racingpost.com/photos)
Bookies' scourge Curley calls time on training

LEGENDARY gambler Barney Curley has finally called time on his training career and a battle with the bookies which has spanned half a century, reasoning that "the buzz has gone from the game".
The 73-year-old is not planning to renew the licence he has held off and on since the 1980s when it comes up for renewal later this month and recently let his longtime assistant Andrew Stringer join neighbouring trainer James Tate.
Curley has already put his Cleveland House Stables in Newmarket up for sale. It is home to just two horses at present, as well as a lot of equipment bound for Africa as part of Curley's latest Direct Aid For Africa shipment. The Northern Irishman plans to devote more time to the charity he set up in 1996.
Curley first set up training at Harraton Court Stables in nearby Exning in 1982 where he enjoyed considerable success before purchasing 34-box Cleveland House on Newmarket's Hamilton Road.
He enjoyed his most productive year as recently as 2010 when his 11 winners included two on one day in May of that year: Agapanthus and Savaronola, who were part of a three horse coup (the other involved horse was Chris Grant's Jeu De Roseau) that netted a paper profit of £4 million for Curley's associates.
It was not until last February that Betfred and 888 Sport finally paid out the remaining £852,000 that was withheld as part of an inquiry held in Gibraltar.
Curley said: "I don't think I will be renewing my licence this time as I have sold most of the horses and have just two left and I am waiting on people to come and see them this week. The buzz has gone from the game and I haven't had a bet since that day in 2010 as I would be putting in just as much effort to make only a half of one percent of the money we made that time."
He was sad to see the departure of his longtime assistant Stringer, who took the reigns at the yard for a spell in 2008. Curley added: "I have been very loyal to Andrew over the years and him to me. He has joined James Tate and I wish him well."
Curley is expected to devote his time to his Direct Aid For Africa project, shipments for which are set to leave Tilbury docks bound for Zambia later this month.
He said: "We have four containers headed for Zambia shortly but there is an SOS for chairs at the moment so we are prioritising those."
Curley saddled his final winner when Me Fein won a seller at Fakenham on November 20.
He added: "Me Fein was my last winner and also my last runner as he was second at Uttoxeter at the end of November. He has since joined David Evans and I wish him all the best."
Tate said: "Andrew Stringer started with us recently and he is the head man in charge of the older horses while my existing head man, Chris Carter, is in charge of the just-turned two year olds."
Read about Barney Curley's biggest gambles, brightest pupils and best quotes only in Wednesday's Racing Post.