Troytown hopefuls face jumping test at Auteuil

Preview: France, Sunday
Auteuil: Prix Troytown (Group 3 Chase) 2m6f, 5yo+ (3.45pm GMT)
THERE was much talk at Cheltenham last week about the different stamina demands of the Old and New courses at Prestbury Park.
Auteuil's outer chase course differs markedly from the inner in that it features arguably the venue's most difficult test of jumping, the big rail and ditch fence nicknamed the Judge of the Peace (la Judge de Paix).
The Prix Troytown is the first step on the road to the Grand Steeple-Chase de Paris that features this terrifying monolith, a fence at which five horses lost their chance in France's greatest jumps race last season.
Among those yet to face the ditch is Tir Au But (Guy Cherel/Cyrille Gombeau), who along with stable mate Rubis Sur Ongle carries the red and white silks of the Haras de Saint-Voir.
Tir Au But secured a notable group race double over fences and hurdles last autumn.
The six-year-old son of Trempolino ran second under a big weight on his comeback over hurdles in the Prix Juigne.
"He's taken his race very well and, although I'd have preferred another week between the two races, he's never run over fences at Auteuil and he needs to try the outside course," said Cherel.
Of Rubis Sur Ongle he added: "He's not always an easy ride, he can sometimes pull a little but he's a good horse and is very consistent. I think Tir Au But is the better of the two but he has the disadvantage of making his debut on the outside track at Auteuil, which is no easy thing."
Jumping will also be the main concern for supporters of Rochmi Du Mont (Philippe Cottin/David Cottin), who fell at the water jump in front of the stands (Riviere des Tribunes) a fortnight ago.
That error came in the Prix Robert de Clermont Tonnerre, a race in which the talented former hurdler Bel La Vie (Guillaume Macaire/Bertrand Lestrade) was an encouraging second.
Also on Sunday (2.40pm GMT)
Auteuil: Prix d'Indy (Group 3 Hurdle) 2m2f, 4yo
The recent cold snap has left trainers with the dilemma of whether or not to run when work at home has been difficult.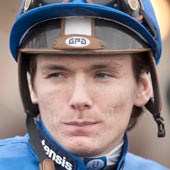 David Cottin: takes the ride
PICTURE:
Edward Whitaker
Several have opted for discretion over valour, leaving Victoire Des Borde (Francois Cottin/David Cottin), a revelation over both hurdles and fences at Cagnes-sur-Mer during the winter, as the most interesting candidate.
The best of her six rivals around Auteuil last autumn was Carilo (Carlos Lerner/Alain Chitray), who finished third to Extreme Cara in the Group 1 Prix Cambaceres on her final start at three.