Waller hits 100-mark with Sydney treble
Report: Australia, Saturday

Rosehill (Sydney)

CHRIS WALLER notched another milestone at Rosehill on Saturday, becoming just the fifth trainer to prepare 100 Sydney winners in a season.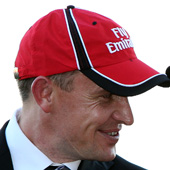 Chris Waller: "today is a dream"
PICTURE:
Getty
Waller, who is on the way to breaking the Crown Lodge-Tulloch Lodge stranglehold on the Sydney premiership, led in a winning treble to end the day on 102 wins for the season with ten meetings remaining.
Such is Waller's attention to detail he imported Damien Oliver from Melbourne with several of Sydney's top riders committed to mounts at Eagle Farm.
The champion jockey was only too happy to oblige, saying it was slim pickings with the plethora of claiming apprentices in Melbourne nabbing the best mounts.
Oliver rode all three of Waller's winners - Velrosso, The Verminator and Little Surfer Girl - to bring back memories of Golden Slipper day 2007 when he had a stakes double for Waller as well as taking out the Slipper and the BMW.
"I used to get blown away having people like Damien Oliver ride for me," Waller said. "I still get blown away being able to train against people like Gai Waterhouse, JohnHawkes and Peter Snowden.
"Just being able to train in Sydney is a dream and today is another dream. We're having an amazing run."
Little Surfer Girl is a big part of the dream as one of the horses Wallertrains for Bob Ingham who chose him as his new trainer after he sold Woodlands Stud to Sheikh Mohammed's Darley Australia.
For Oliver, coming to Sydney was a welcome opportunity to ride winners with fewer opportunities in his home town.
"They are 'claim' crazy in Melbourne at the moment and it's hard to get rides," he said. "To be fair the races are on wet tracks and once they claim on the topweights everyone else wants apprentices which leaves only a couple of rides in the middle of the weights.
"I've been going to the races for only one or two rides whereas I've come here today for a good book."