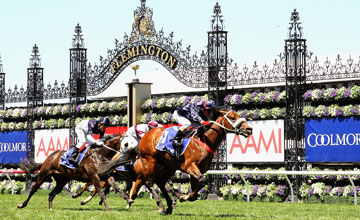 The exciting Zoustar powers home under Jimmy Cassidy
PICTURE:
Getty images
Royal Ascot-bound Zoustar justifies hype
Report: Australia, Saturday

Flemington: Coolmore Stud Stakes (Group 1) 6f, turf, 3yo
ZOUSTAR will seek to follow in some illustrious Australian footsteps after the speedster described by trainer Chris Waller as "the next big thing" lived up to his billing with a victory that confirmed him firmly and deservedly on course for Royal Ascot.
The nation's new sprint sensation was regarded by many as the good thing of Derby day and he proved to be just that, easing to an easy two-length triumph that gave jockey Jimmy Cassidy the 100th Group 1 success of his career.
While much of the local post-race attention inevitably focused on Cassidy, there was also considerable excitement about the future of Zoustar, who was sold to Widden Stud in the week for around £10 million with another £2.5m bonus now due to his former owners following his Group 1 strike.
Waller, undoubtedly Australia's top trainer right now, had nominated a trip to Ascot for Zoustar long before the colt's first mission on Flemington's straight course. He was not changing his mind afterwards.
The Diamond Jubilee Stakes, whose most recent Australian winner was Black Caviar in 2012, looks the obvious target and Waller, who described Royal Ascot as "the centre stage of the world", believes the experience gained from this outing will stand the best animal he has trained in good stead come June.
"Straight course racing is a new dimension for the horse but I'm sure it won't be the last time he gets to run up a straight," said Waller. "We just have to teach him to run up a bit of a hill at the end as well. We'll have a talk to Black Caviar and see how she did it.
"I'm pretty naive with the English races but we'll look at everything and find the best races for him over six and seven furlongs.
"For me personally, Ascot is the big aim and fortunately we've got a realistic chance. It's a dream."
Expanding on what has been a stressful week for the trainer - but seemingly not the horse - Waller added: "It's a huge relief. He has the crown of being the best three-year-old in the country and he has defended it.
"There was a sale on the table this week and you've no idea how many things go on with that. The horse has coped with it all. He has had vet examinations, his reproductive organs checked, the lot, and he hasn't batted an eyelid. Even yesterday he was having a photo shoot. He's the most professional horse. He has looks and he has speed. He's a superstar."
As is the 49-year-old Cassidy.
"It's great to be part of Jimmy's career and great to be part of a very good colt's career," said Waller, while Cassidy added: "They can't take it awa y from me now and I'll treasure that for the rest of my life.
"I've always said that it's easy to get to the top but to stay there is hard and I'm proud of myself because I've been there for 30 years
"I'm here on the big stage again in that magic week in November riding my 100th Group 1 winner."
And almost certainly one of the best.
Also on Saturday
Flemington: Myer Classic (Group 1) 1m, turf, 3yo+ fillies and mares
CHRIS WALLER completed a Group 1 double for the day when sending out Red Tracer (Nash Rawiller) and Catkins to finish first and second in the Myer Classic.
Waller said: "In the last 100 metres it became quite clear we were going to fight out the finish and I thought Catkins had the upper hand and to Red Tracer's credit she fought hard.
"It was a very proud moment and I think Catkins will be the next Red Tracer so her turn will come."
Of Red Tracer, he added: "She is a very brave mare and if you have a look at her she's not very big so she deserves all the credit she gets."