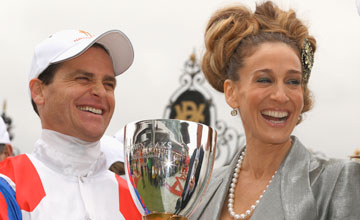 Jockey Danny Nikolic poses with the Crown Oaks trophy PICTURE: Getty Images
Murder case raised in Danny Nikolic tribunal
AUSTRALIA: Threats made by jockey Danny Nikolic against Victoria's chief racing steward were all the more serious because they came against a background of a notorious murder, a tribunal has heard.
In another explosive day of evidence, lawyer Phillip Priest QC told the Racing Appeals and Disciplinary (RAD) Board Nikolic threatened chief steward Terry Bailey and his family at a Victorian race meeting earlier this month.
Mr Priest, appearing for the stewards, said Nikolic had told Bailey: "We all have families c***, and we know where yours lives c***."
He said Bailey was entitled to take the threat seriously because it was a "notorious fact" that Nikolic's former father-in-law Les Samba had been shot dead in February last year.
"Mr Bailey would have known this," Priest said.
The murder remains unsolved, but police have linked it with recent race-fixing allegations in which Nikolic has figured prominently.
Nikolic has denied making the threats and of involvement in race fixing and his father-in-law's murder.
In an often heated cross-examination the colourful jockey accused Priest of "grandstanding".
"I had nothing to do with Les Samba getting murdered," Nikolic told the tribunal.
He said police had interviewed him over the case and he had provided information about Samba's connections.
As a result of the alleged threats made at the Seymour race meeting on September 4, Nikolic is facing charges of conduct prejudicial to the interests of racing and of dishonest, corrupt, fraudulent or improper conduct.
He denies the allegations, saying it was Bailey who threatened him, telling him: "I told you I would f*** your career".
The inquiry also received evidence demonstrating the turbulent relationship between Nikolic and Bailey.
In a letter he wrote to Racing Integrity Commissioner Sal Perna in 2010, Nikolic accused Bailey of conducting a witch-hunt, of vilifying and persecuting him and of arrogance toward him and other licensed persons.
Nikolic also revealed he had been questioned by detectives from Victoria's Purana Task Force on Wednesday.
Detectives from the squad that investigated Melbourne's gangland wars have spoken to several racing identities in connection with allegations of race fixing.
Police say a connection exists between the suspect races and the Samba murder.
Closing submissions in the Nikolic inquiry will be delivered on Friday.