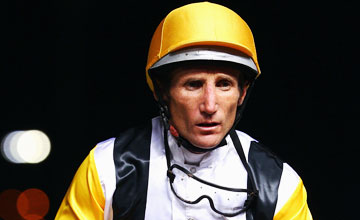 Damien Oliver: was banned for ten months last November
PICTURE:
Getty Images
Oliver should have been stood down sooner
Australia: Jockey Damien Oliver should have been stood down sooner while under investigation for betting on a rival horse, the Victorian racing integrity commissioner has found.
But there is no evidence of any deal between Oliver and Racing Victoria that he could ride through the spring racing carnival.
Oliver was banned for ten months in November 2012 over a $10,000 bet he placed on rival horse Miss Octopussy in a race at Moonee Valley two years earlier.
Racing Victoria allowed him to ride throughout the 2012 spring carnival while he was under investigation.
Oliver won three Group 1 races, including the Victoria Derby, and finished 11th aboard Americain in the Melbourne Cup before being stood down on November 13.
Racing Integrity Commissioner Sal Perna said Oliver should have been stood down sooner and new stand-down provisions should be implemented.
"I am of the view that the decision taken not to do so until Oliver made admissions was too conservative and cautious in the circumstances," he said in a report tabled to the Victorian parliament on Tuesday.
Perna said the stewards' power to stand a person down before charges were determined was unclear and should be changed.
He said he found no evidence to support speculation Oliver had an agreement with Racing Victoria that he could ride through the Melbourne carnival, or receive a limited suspension to ensure his participation the following spring.
"I have no evidence to support the speculation that the Oliver inquiry was handled unprofessionally, incompetently, inefficiently or in a protracted manner," he said.
Perna also found that the penalty handed to Oliver was "reasonable in the circumstances" despite public concerns it was too lenient.
Oliver met with Racing Victoria officials last October over misconduct allegations on the condition the discussions would take place "without prejudice".
Mr Perna also called for better information sharing between Victoria Police and the racing industry.
Premier Denis Napthine, who as racing minister ordered the commissioner's review, said the government supported Mr Perna's recommendations in principle.
"We are examining and we will be implementing changes to adopt those recommendations," he said.