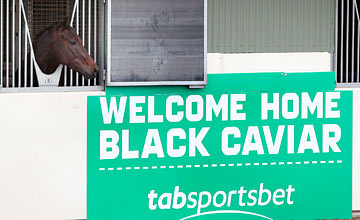 Black Caviar is welcomed home to Melbourne on Wednesday morning
PICTURE:
Gary Wild
Black Caviar returns
home with new friend
Australia: Black Caviar has arrived home from her English adventure with a very personal appreciation of foreign racing.
"Somehow she has fallen for a European," said assistant trainer Tony Haydon who accompanied her on the 39-hour trip from Newmarket to Werribee.
Also on the flight that touched down in Melbourne before dawn on Wednesday was the Italian stallion Voila Ici who is to join the team of Black Caviar's trainer Peter Moody.
According to Haydon, that arrangement is likely to be appreciated by the unbeaten champion.
Haydon said Black Caviar had become enamoured with Voila Ici who apparently had a calming affect on her during the trip.
"I'm not sure how it works but he seems to keep her happy and so as long as that happens we're all right, Haydon said."We parked him in front of her on the plane so she could see him and I think she travelled a lot better once she was able to see someone."
But any chance of Black Caviar and Voila Ici becoming anything more than friends has been ruled out with the superstar of Australian racing having been "promised" to a local stud.
Voila Ici arrives in Australia
PICTURE:
Gary Wild
Black Caviar maintained her perfect record with a 22nd career win in last month's Group 1 Diamond Jubilee Stakes at Royal Ascot.
She has since spent two weeks in quarantine at Newmarket and must be confined at Werribee for the same period before resting at Moody's outer-Melbourne property until she begins her spring preparation.
Voila Ici, a well-performed Italian stayer bought by Queensland breeder Jon Haseler, will be aimed at the Caulfield and Melbourne Cups.
Previously prepared by Italian trainer Vittorio Carruso, he has won seven of his 12 starts, including a Group 1 over 1m4f in Milan as well as a Group 2 over 1m6f at Longchamp.
Assuming she recovers from injuries sustained in England, Black Caviar will be set for the Group 1 Patinack Farm Classic at Flemington, a race she won for the past two years.