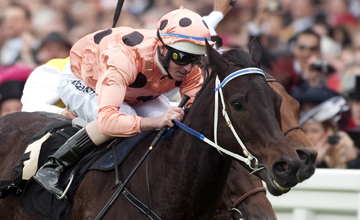 Black Caviar: makes her reappearance in the Lightning Stakes on Saturday
PICTURE:
Edward Whitaker (racingpost.com/photos)
Ascot return not ruled out for Black Caviar
Australia: A return trip to Royal Ascot has emerged as an option for the horse that can't be beaten as she begins her final campaign at Flemington on Saturday.
Black Caviar, the highest-ranked thoroughbred racing anywhere in the world, has her 23rd start in a race she has won twice before and which this year has been named in her honour.
If she wins the Black Caviar Lightning Stakes as convincingly as trainer Peter Moody expects her to, the world champion sprinter will race again. If she doesn't, Moody will recommend her immediate retirement.
"I'll be looking for her to dictate how the race is run ... to go through her gears and do what she has to," Moody said.
"Then I'll get together with the owners and map out a program. But if I have concerns that she's not at the top of her game, I'd wonder whether we should go on.
"What she does tomorrow will dictate where we head in the future."
And one of the directions open to her is Royal Ascot, the scene last June of the narrowest of her 22 wins.
Part-owner Gary Wilkie raised the Ascot possibility on Melbourne radio on Friday, saying he and his fellow owners hadn't closed the door on the prospect. Moody didn't rule out a return to Ascot either, but only under special circumstances.
"The only reason I thought she might make the trip would be if the owners thought about her going to a stallion like Frankel and being served to southern hemisphere time," Moody told Melbourne radio station RSN.
The news provided a glimmer of hope for Ascot's head of international racing Nick Smith, who is in Melbourne recruiting for this year's Royal meeting.
"If there is any way I can make it happen, I will do it," Smith said.
But Saturday's race, her first since she won the Diamond Jubilee Stakes at last June's Royal meeting is clearly her priority.
Black Caviar will have seven opponents in the 1000m dash down the Flemington straight, none of which are in her class.
She is officially rated 24 points - around 10 lengths - clear of her nearest rival and if you want to back her you can get a tax-free return of six per cent on your investment.
Victory in the Lightning will add $300,000 to Black Caviar's account, taking her prize money total to $7,302,436.
It would also place her firmly at top of the world rankings - at least until the European flat racing season gets into full swing next month.
The racing world will then assess and interpret Moody's reaction to Saturday's performance. But it may be that the strongest clue to the future came as he paraded the mare this week and urged anyone with the slightest interest in Black Caviar to come to Flemington.
"If you haven't seen her, get of your bum off that chair and get out there and have a look," Moody said.
It may be the last chance we get.