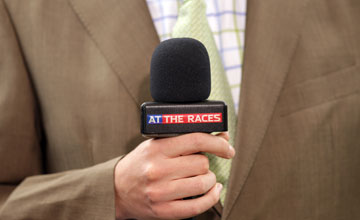 At The Races: has had exclusive access to Irish racing since 2004
PICTURE:
Patrick McCann (racingpost.com/photos)
ATR poised for victory in Irish TV racing battle

AT THE RACES looks certain to retain the rights to Irish racing pictures after Horse Racing Ireland confirmed that its joint bid with SIS was now the only deal under consideration.
ATR has had exclusive access to Irish racing since 2004, but its current deal expires next year.
Racecourse Media Group-owned RUK has already taken Exeter, Kelso and Perth from its Sky-owned rival and secured Ascot for next year.
In addition it pitched HRI and the Association of Irish Racecourses for the Irish racing contract, but it has been unsuccessful.
Richard Fitzgerald, chief executive of RMG, said: "They have gone with their preferred supplier and we are not them."
Michael O'Rourke, HRI's director of strategy and marketing, said: "No final decision was reached by the HRI board [when it met on Monday], but it was agreed that the HRI media rights committee would enter into a brief period of exclusive negotiations with a preferred bidder, which at this stage is the joint ATR/SIS bid.
"It is anticipated that these negotiations will be concluded within the next month, and the issue will be on the agenda for discussion again at the next HRI board meeting in Galway [which runs from July 29 to August 4]."
ATR has exclusive non-terrestrial picture and interactive betting rights in the United Kingdom and Ireland for all 27 of Ireland's racecourses, but its British line-up from next year's Royal Ascot meeting has dwindled to 24 with the loss of the above tracks and the closure of Folkestone and Hereford too.
In addition none of the British tracks it does cover are premier courses on the Flat or over jumps with the stars, Aintree, Cheltenham, Goodwood, Haydock, Newmarket, Sandown and next year Ascot, all held by RUK.