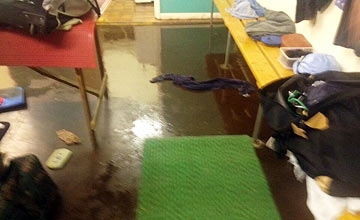 Jockey Richard Hughes tweeted this picture of the conditions at Bath
PICTURE:
Richard Hughes
Bath abandoned after jockeys kick up stink
SUNDAY'S meeting at Bath was abandoned in bizarre circumstances after sewage problems in the jockeys' changing rooms sparked a protest from the riders.
Racing went ahead as usual for the first four races but following a 20-minute delay to the 3.35 1m2f fillies' handicap, the meeting was abandoned with four races to go.
Overnight thunderstorms were blamed by the racecourse for the drainage problems and Arena Racing Company are expected to hold an inquiry into the incident.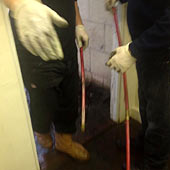 Hughes also tweeted this picture of cleaners tackling the mess at Bath
PICTURE:
Richard Hughes
The jockeys were outraged as to the conditions they were expected to work under, with Richard Hughes tweeting "these are the conditions Bath racecourse ask us to work in" along with the picture at the top of this story.
Hughes later said in an interview with Sky Sports News Radio: "It's a shame we had to call racing off but we have moaned before about the weighing room being a disgrace.
"It was damp and the sewage was coming in to weighing room. There was water dripping from the walls and ceilings and onto our clothes.
"We don't need anything fancy and we are not asking for moons and stars, we just need something nice and clean. The food is only about 20 feet from the sewage coming out."
Hughes added: "The lads who are on their feet all day looking after us before and after the races and changing our gear - we couldn't ask them to be walking round in a pool of water.
"It is bad enough asked to work for skimpy prize-money but to work under those conditions as well is unacceptable. The directors of Arc certainly wouldn't sit a room with sewage coming in there when they are working."
Kate Hills, director of PR and communications for Arc, said in a statement: "Unfortunately Bath has had to abandon due to torrential rain causing localised flooding.
"Despite efforts made by the racecourse, as the downpours occurred, drains were unable to cope with the continuous heavy rain, which affected the weighing room area.
"Jockeys were offered alternative facilities but after discussion with the stewards it was decided that racing had to be abandoned. We will be looking into this and we are doing everything we can to ensure this situation does not re-occur next season."